Roomba 980 and Braava Jet 240 Review
The Case For Letting Robots Clean Your Home
As POPSUGAR editors, we independently select and write about stuff we love and think you'll like too. If you buy a product we have recommended, we may receive affiliate commission, which in turn supports our work.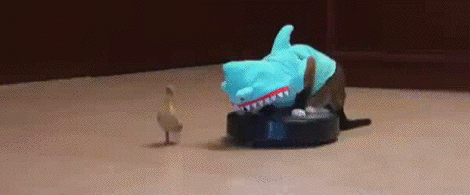 I've always believed in the restorative power of cleaning your home. Since entering adulthood, I've set aside one Saturday or Sunday each week for a full, top-to-bottom scrubdown — a ritual that not only ensures an outlet to blow off steam but also enables me to kick off each Monday with the zen-like knowledge that no matter what work throws my way, at least I'll always be going home to a clean apartment. And until recently, I always kept my cleaning products low-tech and rudimentary; there's something about the monotony of scrubbing and mopping and sweeping that's conducive to shedding (and sweating) off all the things that have cluttered your mind throughout the week, and I was never sold on the idea that giving these tasks to a robot would change my life for the better.
Boy, was I wrong.
Only a few weeks after unboxing two iRobot cleaning devices — the Roomba 980 ($799) and Braava Jet 240 ($169) — and setting them loose on my apartment, I can officially say that robots haven't haven't only changed the way I approach cleaning; they've also made it a far, far less time-consuming task overall. Though I haven't gotten to the point where I'm ready to trade in my vacuum for the Roomba and my Swiffer and mop for the Braava full-time, setting the robotic duo to maintenance-clean for me while I'm at work means that I've dramatically reduced the amount of mess that accumulates over the course of any given workweek. And as we all know, less mess means less time spent scrubbing those nooks and crannies and more time vegging on my newly cleaned couch in one hell of a spotless living room.
Below, check out a bit more detail on why I've become hooked on these two robots. But it's worth noting that if you're anything like me, you're probably well overdue for an upgrade to your cleaning routine — and if my experience is anything to go by, it's an investment worth making ASAP.
Roomba 980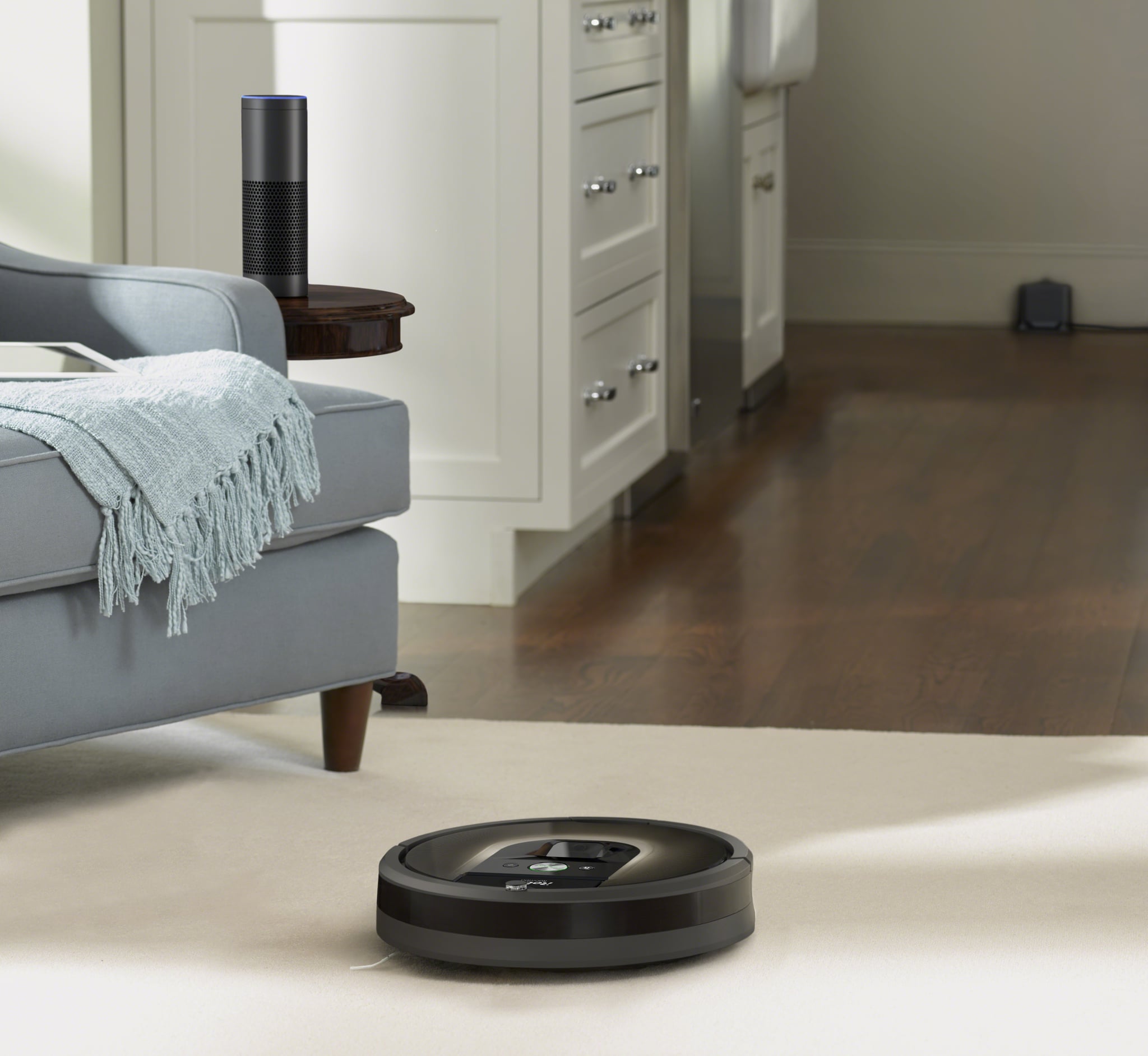 The basic functions: It's the best damn robot vacuum that money can buy. It maps out every inch of your home and gets into every single unreachable spot as it cleans — and bonus, it can all be done while you're away from home, thanks to the app-and-voice controls built into the device. With 120 minutes of battery life and the ability to clean all types of floors, it has the power to conquer any messes that have started amassing in your home.
Why it's worth going for the top of the line: The 980 model unlocks access to the ultimate in robotic leisure: the ability to have your robot return to base to charge after 120 minutes and then immediately return to where it left off and finish the job. In other words, no home is too big, long, or complicated for this robot. As an added bonus, the sound is dramatically less noticeable with the latter, higher-end models — it's easy to forget that the robot is even running while you're watching TV or cooking and makes it even more of a treat when it finishes without you even noticing it had been working in your midst.
Why I'm addicted: Clearly, the biggest thing for me has been the amount of time I've saved since bringing the robot home. But I'd be remiss if I didn't mention how much I've adored being able to seamlessly integrate the robot into my preexisting smart home ecosystem. Now, when I'm fiddling with the lights, heat, and in-home camera, I can give my floor a quick clean as well — all without ever having to lift a finger or drag the vacuum out of its hiding spot in my apartment.
Braava Jet 240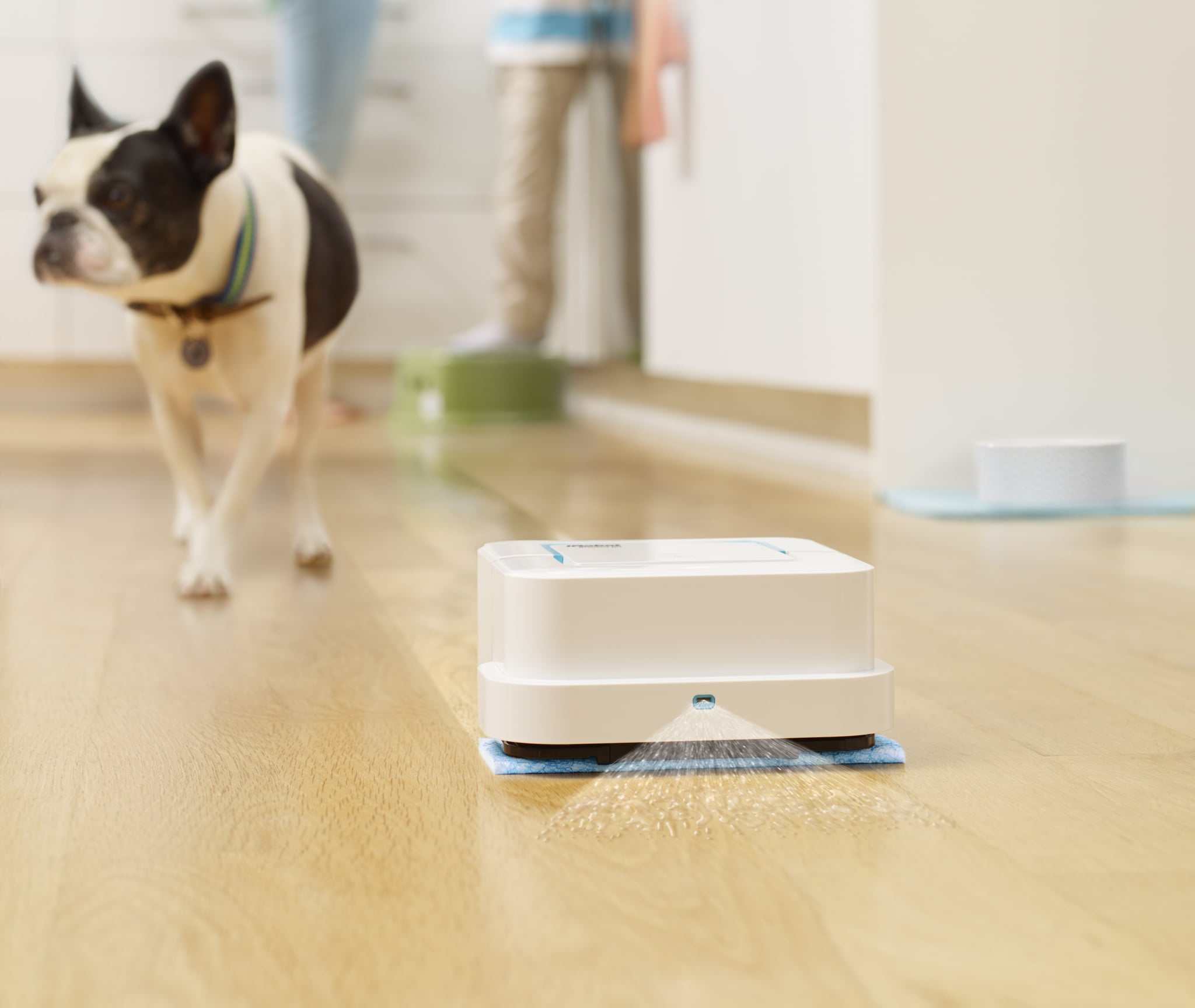 The basic functions: With the ability to sneak into tight spaces and those frightening corners in your kitchen and bathroom, it's a robot mop that's worthy of The Jetsons. With a 20-minute battery life — trust me, it does a whole lot of work in those 20 minutes — and the same app-based controls as the Roomba, the Braava Jet is a game changer for anyone who has never quite been able to wrap their head around how to effectively (and efficiently) clean the areas that get dirty in the least amount of time.
The bonus features: There are three distinct settings — wet mopping, damp sweeping, or dry sweeping — which all work together to provide the most thorough, spotless clean. All you need to do is insert the mop pad that tackles the issue you want handled, and voila — your robot goes to work. It's also worth noting that as a result of not having to permanently choose one of these settings, it does the work of not only a Swiffer Wet Jet or duster, but also that of a broom.
Why I love it: I cannot articulate the sheer breadth of products that I have attempted to make my go-to when it comes to cleaning my kitchen and bathroom. But the Braava does the basic clean that's needed on a near-daily basis, and does it in a way that is barely noticeable in my day-to-day schedule — especially since I have it set to do all the hardwood floors in my home on a weekly basis. Now, I've just got to find the time to clean out those stockpiles under my kitchen and bathroom sinks.
Image Sources:
Giphy
and iRobot