Here's How Tinder Swipe Night: Killer Weekend Works
Tinder's Swipe Night Is Back With a Wild, Interactive Murder Mystery to Solve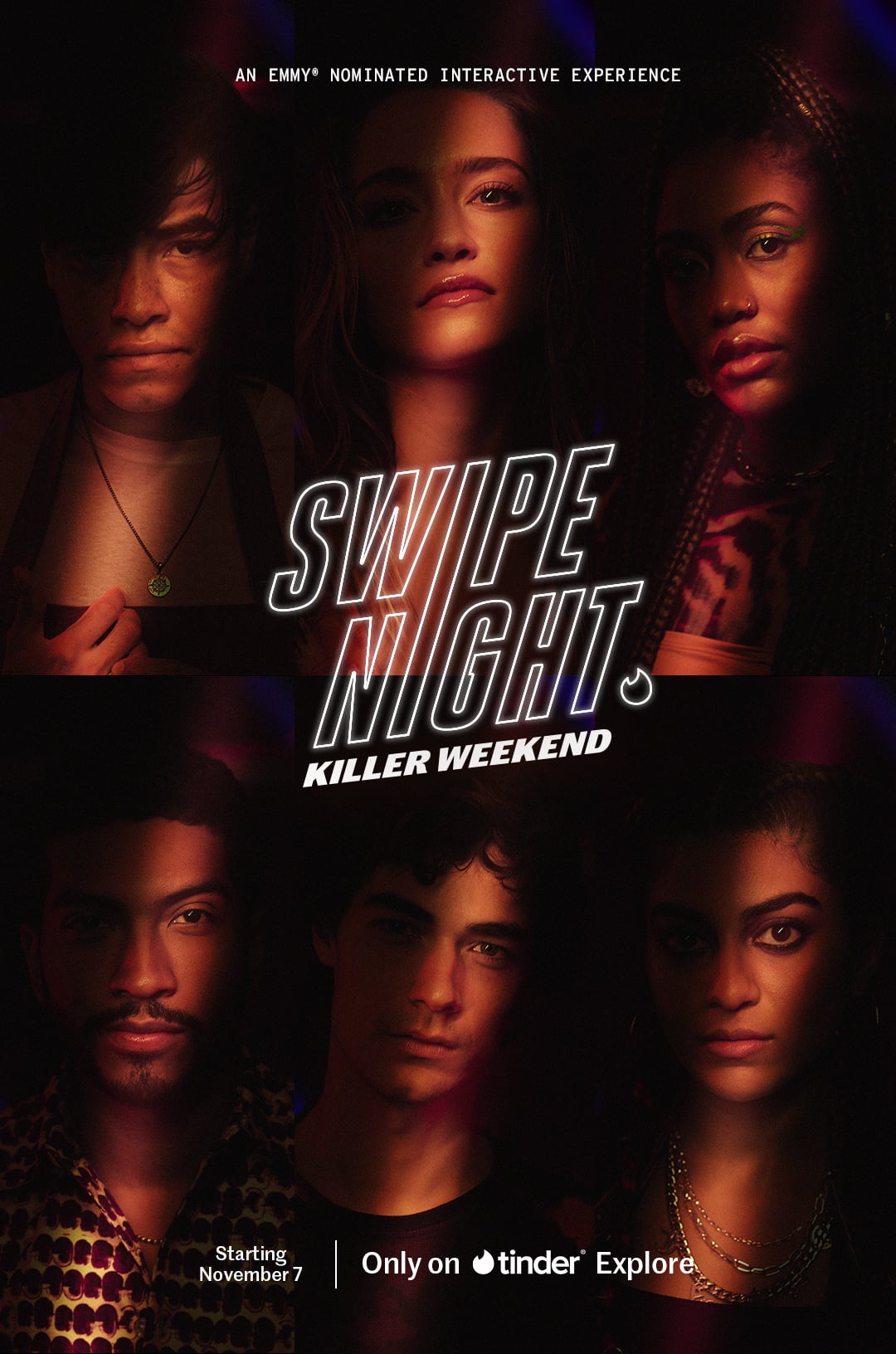 The only thing more frightening than the fact that 2022 is dangerously close is Tinder's Swipe Night: Killer Weekend series. Hitting the app on Sunday, Nov. 7 at 6 p.m. local time, the Emmy-nominated, interactive event within the Tinder Explore hub brings together users for an all-new, virtual experience: solving a murder mystery. Those who tune in to the Swipe Night portal will follow a Gen Z-filled cast of characters as they get to the bottom of a fictional murder that occurs during character Benjy Harlow's 23rd birthday party.
First launched in 2019 in the U.S. and then globally in 2020, Tinder Swipe Night drew in 20 million users and drove a 26% increase in matches, according to a press release from the brand. "Swipe Night was our first big experiment to see if members wanted to do something more than Swipe, and the answer was resoundingly 'yes,'" Kyle Miller, VP of Product, said in the release. "The evolution of Swipe Night, and experiences more broadly on Tinder, allow members to have a fun, low pressure way to break the ice. We decided on the mystery genre, because it's a conversation catalyst and a unique opportunity for members to get to know their match by working together to solve the crime." As interest in true crime grows across the U.S., it's likely those numbers will increase during this month-long initiative.
The Swipe Night: Killer Weekend experience contains three episodes in total, with the remaining two dropping on Nov. 14 and Nov. 21, and solving this murder mystery is a lot more interactive than you might think. Here's how to navigate Tinder's Swipe Night experience to make the most of it, and maybe even find your new partner in crime.
Where is Tinder Swipe Night: Killer Weekend in the App?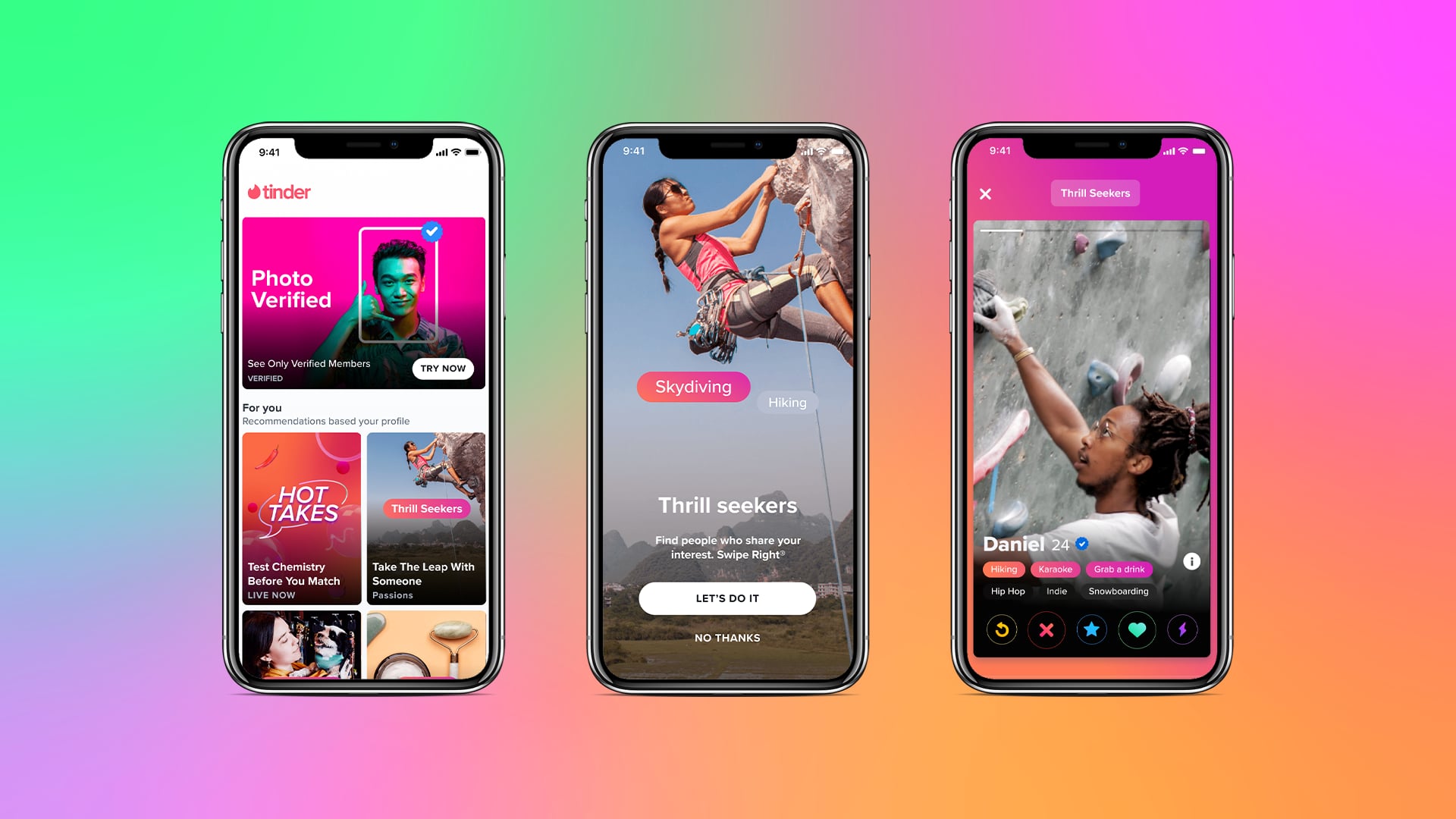 To find Swipe Night: Killer Weekend, navigate to Tinder's Explore page, denoted by the small window icon on the menu along the bottom of the app screen. Starting Nov. 7 at 6 p.m., you should see promotional images that'll bring you to the Swipe Night hub.

How Does Tinder Swipe Night Work?
Once you're in the Swipe Night portal, you can tap the "Start Swipe Night" button to begin the first episode. From there, you'll be immersed in an interactive, first-person video experience with the Killer Weekend cast. What's cool is that the characters do break the fourth wall, lumping you into their group (and potentially even naming you a suspect) as the sinister events of the night unfold.
At certain points during each episode, a set of choices that affect the trajectory of your Swipe Night experience and expose you to varying sets of clues will appear on your screen. To choose your adventure, you'll swipe left or right (naturally), and the story will continue. At the end of each episode, you'll be asked to decide on which character is your main suspect, and if you want, you can opt to enter a "Fast Chat" with another user.
What Is Fast Chat on Tinder Swipe Night?
Tinder Swipe Night's Fast Chat is similar to the conversation portal you usually have with Tinder matches, with a few twists. If you opt to enter a Fast Chat at the end of a Killer Weekend episode, you'll be paired with a user who made different choices and named a different main suspect than you did. This way, you can exchange insight, opinions, and valuable clues the other user may not have picked up on or seen. Whomever you're paired with is not an "official" Tinder match, however, meaning you don't have to interact with them outside Swipe Night if you don't want to. But, both parties have the option to match officially, and if you do, you'll be able to continue your convo outside Swipe Night. While you can access Swipe Night: Killer Weekend in the app at any point once it launches, Fast Chat only takes place on Sundays, when new episodes are released, from 6 p.m. until midnight local time.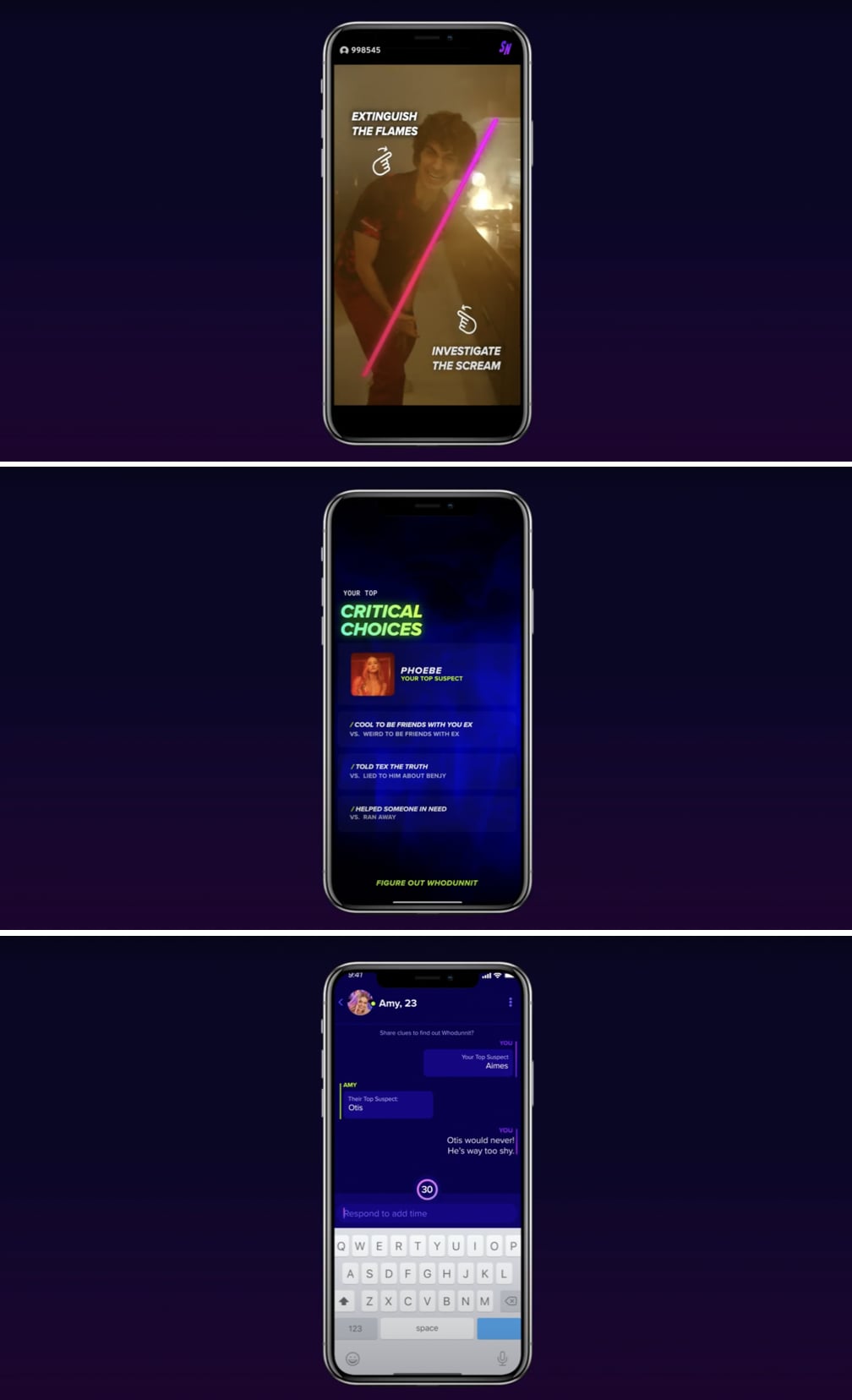 How Many Choices Can You Make in Killer Weekend?
Each episode will present you with at least 10 interactive choices, each of which will result in a different Swipe Night sequence, new opportunities to explore certain rooms and areas, and new sets of clues.
Can You Change Your Swipe Night: Killer Weekend Choices?
Once you finish an episode, you're able to replay it from the beginning and make new choices — and pick up new clues — along the way.
Who's in the Swipe Night: Killer Weekend Cast?
Directed by Sasie Sealy, the Swipe Night: Killer Weekend cast features seven up-and-coming Gen Z actors, some of whom have appeared in shows like Hulu's Dollface, HBO's Westworld, and the Gossip Girl reboot: Ivan Carlo, Ashley Granger, Nozipho Mclean, Emilie Ravenet, Calvin Seabrooks, Luke Slattery, and Francesca Olivia Xuerub.
Join all the murder mystery fun on the Tinder app starting Nov. 7.
Image Source: Courtesy of Tinder