Paleo Wraps Recipe
Paleo Wraps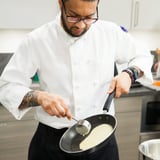 Ingredients
2 cups (6 ounces) almond flour
3/4 cup (3 ounces) tapioca flour
1/4 cup (1 ounce) coconut flour
2 teaspoons kosher salt
1 3/4 cups water
2 large eggs
3 tablespoons plus 1 teaspoon extra-virgin olive oil
Directions
Whisk almond flour, tapioca flour, coconut flour, and salt together in large bowl. In a separate bowl, whisk water, eggs, and 3 tablespoons of oil together until combined. Whisk water mixture into flour mixture until thoroughly combined. Let batter rest for 15 minutes.
Meanwhile, place remaining 1 teaspoon oil in 8‑inch nonstick skillet and heat over low heat for at least 5 minutes. Using a paper towel, wipe the skillet, leaving a thin film of oil on the bottom and sides of the skillet. Increase heat to medium, and let skillet heat for 1 minute.
After 1 minute, test the skillet heat by placing 1 teaspoon of batter in the center and cooking for 20 seconds. If the mini test wrap is golden brown on the bottom, skillet is properly heated; if it's too light or too dark, adjust heat accordingly and retest.
Whisk batter to recombine. Pour 1/4 cup batter into the far side of the skillet, and tilt and shake gently until batter evenly covers the bottom of the skillet.
Cook the wrap without moving it until the top surface is dry and the wrap starts to brown at the edges, loosening wrap from the sides of the skillet with a rubber spatula, 1-3 minutes. Gently slide the spatula underneath the edge of the wrap, grasp edge with your fingertips, and flip wrap. Cook until the second side is lightly spotted, 1-3 minutes. Transfer cooked wrap to wire rack, inverting it so the spotted side is facing up.
Return skillet to medium heat for 10 seconds before repeating with remaining batter, whisking batter often to recombine. Place wraps in a stack on a rack as they're done. Serve immediately or let cool to room temperature.
Cooled wraps can be wrapped tightly in plastic wrap and refrigerated for up to 1 week.
Information
Category

Main Dishes

Cuisine

North American

Yield

12 wraps