Maluma Performs Single "HP on Tonight Show With Jimmy Fallon
Maluma Is Having a Major Moment, and I'm Ready to See More of Him
Maluma is getting ready for the release of his fourth album, 11:11, this Friday, and he's making sure everyone joins the celebrations. Last night, he made an appearance on The Tonight Show Starring Jimmy Fallon, where he spoke about his new record, the world tour that will accompany it, and his collaboration with Madonna on the song "Medellin," which is very meaningful for him as he's from Medellin, Colombia.
"She's amazing, I love her," Maluma said about Madonna. While telling the story about recording the song in London, he said, "She's a perfectionist, she loves having everything on point." Maluma continued showing his admiration toward her, adding, "She's Madonna, she's the queen!"
Maluma also opened up about that iconic performance of "Medellin" at the Billboard Music Awards earlier this month, where he got to dance with four Madonna holograms, plus Madonna herself. He said it was a challenge to learn the choreography because he couldn't see the holograms he was dancing with, but we can all agree the performance came out fantastic — and it was another win for Latinos in the US.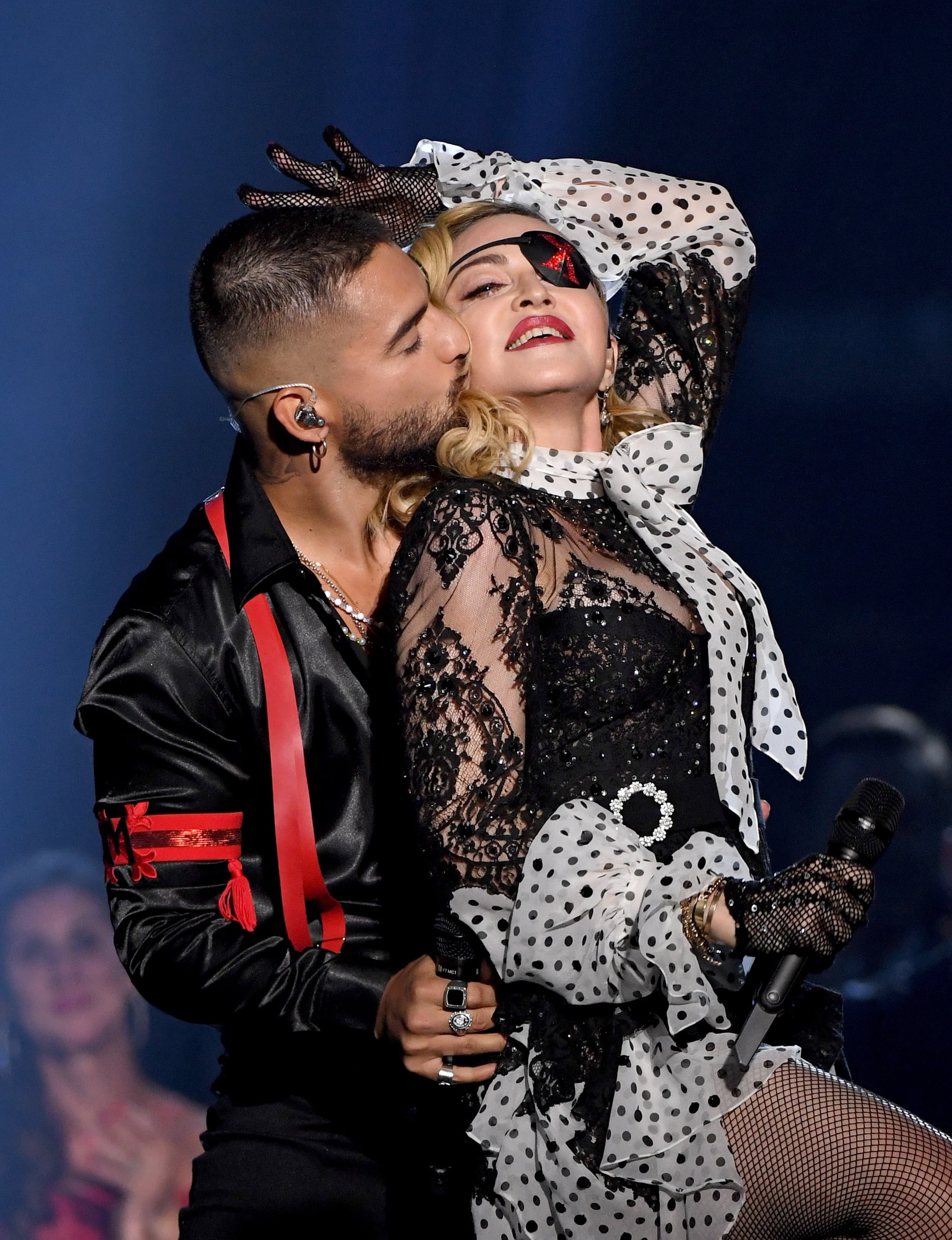 If that wasn't enough, less than a week after that performance, he set foot on the biggest fashion stage: the Met Gala red carpet, donning a custom-made Jeremy Scott for Moschino ensemble that earned him a spot among the best dressed of the night. He represented at the stylish event along with Latinos like Thalía, Salma Hayek, Penélope Cruz, Jennifer Lopez, Cardi B, Zoe Saldana, Camila Mendes, and more.
As for what's next, Maluma told Jimmy Fallon who he'd love to collaborate with in the future, and it happens to be Jimmy's close friend Justin Timberlake. Maluma joked with Jimmy that he should call him on his phone so he can save the number. Although they were having fun, when you come to think about it, a Maluma and Justin Timberlake collaboration is actually a great idea. Two generations of iconic singers in different markets uniting for the sake of good music, nostalgia, and a lot of eye candy. Sign us up!
To end his Tonight Show appearance on a high note, Maluma went on to perform his hit "HP," which has almost 300 million views on YouTube. The song has also become something of a single woman's Summer anthem,as the song talks about an "HP" — which is an abbreviation of "son of a b*tch" in Spanish — who cheated on his girl, but now she looks better than ever and is enjoying her single life, going out and having fun without him.
Maluma is definitely positioning himself as the "pretty boy" of Latin music, although he has years of hard work backing him up. Seeing him succeed in the US in such an organic way is definitely a source of pride for Latinx, and we're totally ready for his new album to drop so we can continue dancing our way through Summer.