Grilled Fish Tacos Paleo Recipe
Bring the Taco Truck to You and Make These Delicious Grilled Fish Tacos at Home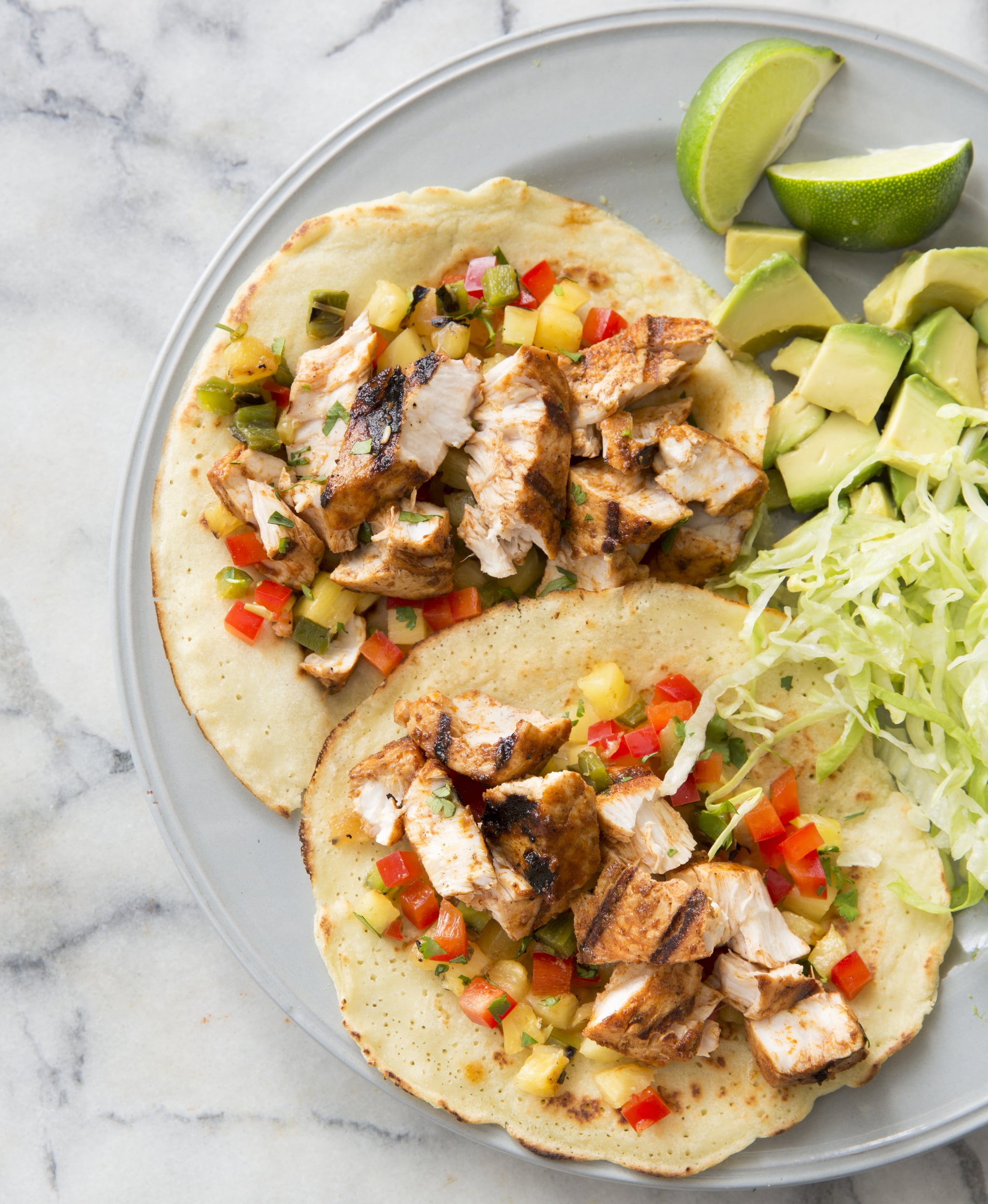 If you love a good fish taco, you're going to love this Paleo-friendly recipe from the folks at America's Test Kitchen. Straight from their new book Paleo Perfected, these grilled swordfish bites with pineapple salsa are light, easy, and definitely healthy. They're also perfect for spicing up Fridays during Lent — see, going meatless doesn't have to be boring. So, fire up the grill, and keep reading for the full recipe you're sure to crave year-round.
Notes
You can substitute mahi-mahi or halibut for the swordfish.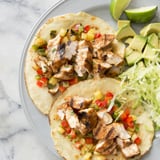 Ingredients
3 tablespoons extra-virgin olive oil
1 tablespoon ancho chile powder
2 teaspoons chipotle chile powder
2 garlic cloves, minced
1 teaspoon dried oregano
1 teaspoon ground coriander
Kosher salt
2 tablespoons tomato paste
1/2 cup orange juice
6 tablespoons lime juice (3 limes)
1 1/2 pounds skinless swordfish steaks, 1-inch thick, cut lengthwise into 1‑inch-thick strips
1 pineapple, peeled, quartered lengthwise, cored, and each quarter halved lengthwise
1 jalapeño chile
1 red bell pepper, stemmed, seeded, and cut into 1/4‑inch pieces
2 tablespoons minced fresh cilantro
12 (6‑inch) Paleo Wraps, warmed
Directions
Heat 2 tablespoons oil, ancho chile powder, and chipotle chile powder in an 8‑inch skillet over medium heat, stirring constantly, until some bubbles form, 2 to 3 minutes.
Add garlic, oregano, coriander, and 2 teaspoons of salt and continue to cook until fragrant, about 30 seconds.
Add tomato paste and, using a spatula, mash the tomato paste with the spice mixture until combined, about 20 seconds.
Stir in orange juice and 2 tablespoons of lime juice. Cook, stirring constantly, until thoroughly mixed and reduced slightly, about 2 minutes. Transfer chile mixture to large bowl and let cool to room temperature.
Add swordfish to chile mixture and gently toss to coat. Cover and refrigerate for at least 30 minutes or up to 2 hours. Brush pineapple and jalapeño with remaining 1 tablespoon of oil.
For charcoal grill: Open bottom vent completely. Light large chimney starter mounded with charcoal briquettes (7 quarts). When top coals are partially covered with ash, pour evenly over grill. Set cooking grate in place, cover, and open lid vent completely. Heat grill until hot, about 5 minutes.
For gas grill: Turn all burners to high, cover, and heat grill until hot, about 15 minutes. Turn all burners to medium-high.
Clean cooking grate, then repeatedly brush grate with well-oiled paper towels until black and glossy, 5 to 10 times. Place swordfish, pineapple, and jalapeño on grill. Cover and cook until swordfish, pineapple, and jalapeño have begun to brown, 3 to 5 minutes.
Using a thin metal spatula, turn swordfish, pineapple, and jalapeño. Cover and cook until pineapple and jalapeño are well browned and swordfish flakes apart when gently prodded with paring knife and registers 140°F, 3 to 5 minutes; transfer to serving platter and tent loosely with aluminum foil.
Chop pineapple and jalapeño fine and combine with bell pepper, cilantro, and remaining 1/4 cup of lime juice in a bowl. Season with salt to taste. Using two forks, pull fish apart into large flakes and serve with pineapple salsa and warm wraps.
Information
Category

Main Dishes

Cuisine

Mexican

Yield

4-6 servings