Color-Changing Butterfly Pea Flower Cocktail Recipe
This Color-Changing Tropical Moscato Limeade Is Like a Liquid Magic Trick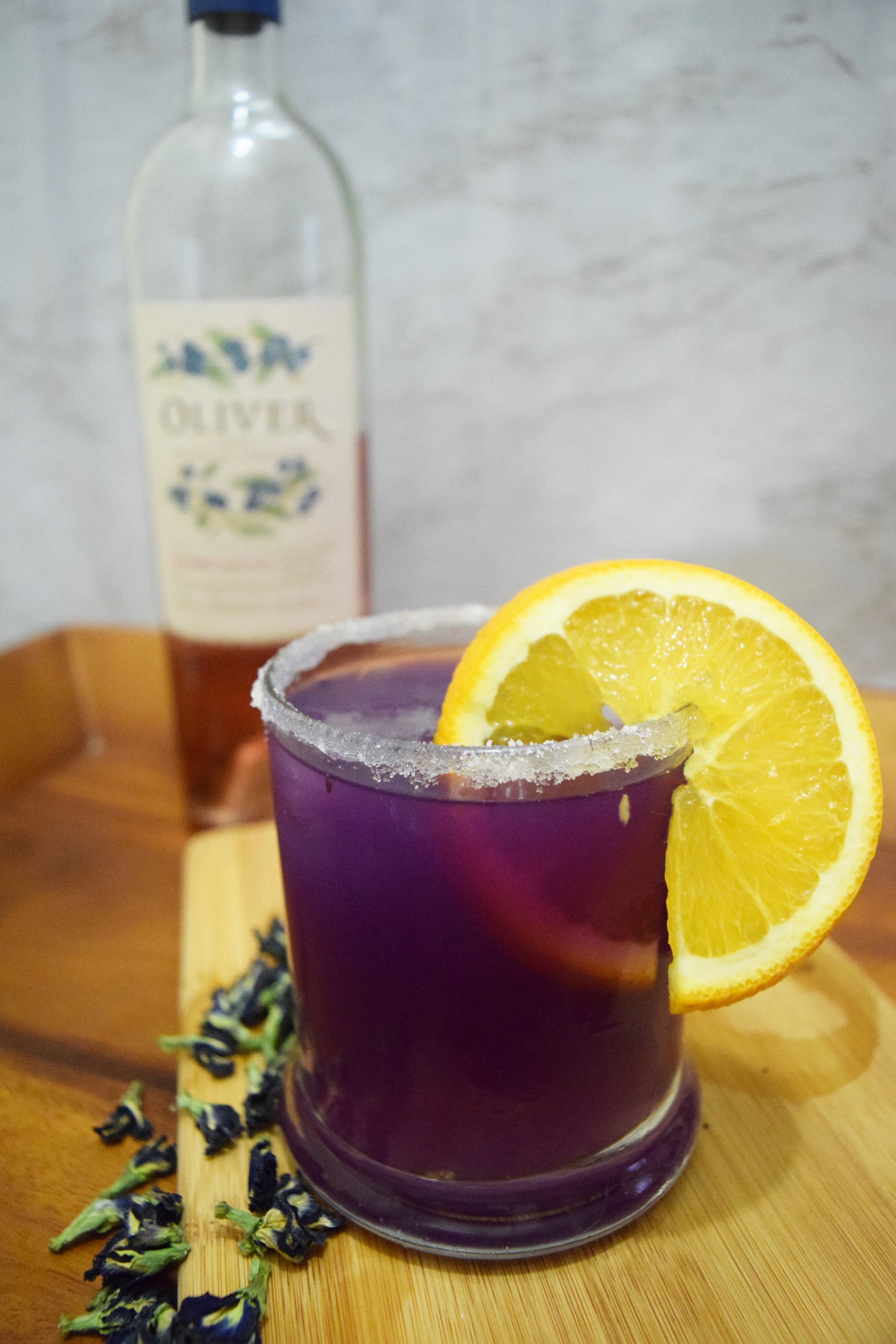 I've seen color-changing cocktails at restaurants and all over Instagram but never tried to make one until now. And let me tell you — these are both magical and finicky! The ingredient that makes the drink change color is called butterfly pea flower. It's a flower native to Asia that's used to make tea because of its beautiful blue hue. For my cocktail, I used dried butterfly pea flowers to infuse Malibu rum. (You can also get butterfly pea flower powder if you want to go that route.) The flowers will turn your liquid — whether it's water or liquor — into a deep blue color. Once it interacts with citrus, it will turn into a more purple color.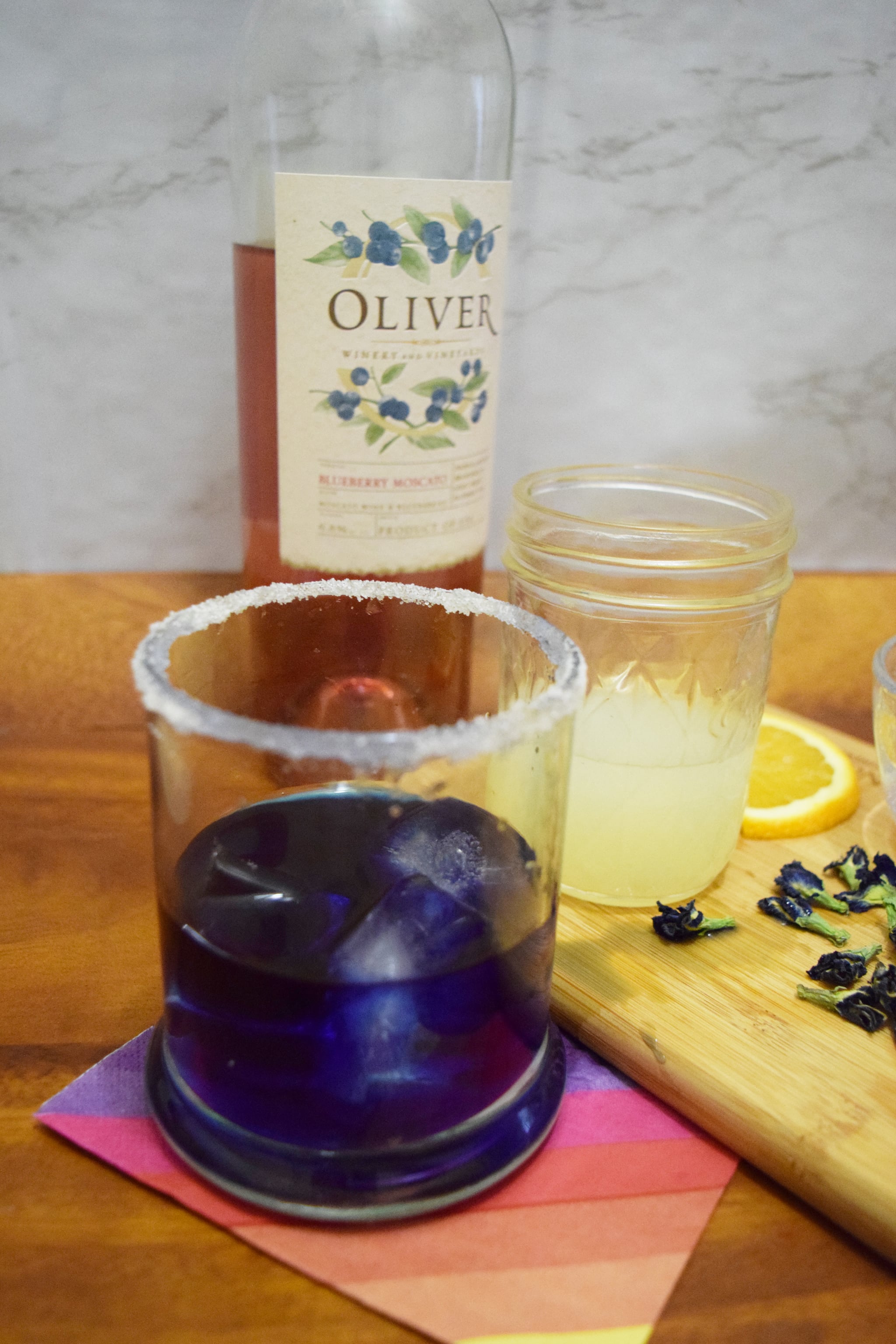 Here's why it can be finicky, though. I had to make this recipe a few times to get the color change to actually work and adjust the ingredients. I recently got this blueberry Moscato from Oliver winery that I'm obsessed with because it's sweet with hint of the blueberry flavor. I thought it would be fun to make the color-changing cocktail with this, but it needed liquor for the infusion. I started with the infused Malibu and tried to use lemonade to activate it, and it just looked muddy. I tried again with more Malibu and less acid, and it didn't change color.
But fear not — many cocktails later, I got there! After experimenting, I found that using straight lime juice instantly turned the blue rum into purple, then I just splashed the wine on top. Also, it's really easy to infuse any of your liquors with the butterfly pea flower. I put a few of the flowers into a Tupperware container with the rum and let it soak for about two hours before fishing out the flowers. You can do more or less time, but these flowers will leave flavor behind as well as color, so the longer they steep, the more rich their earthy flavor.
If you want to make this color-changing cocktail for your next happy hour, your friends will certainly be impressed! Check out the recipe below, and try it yourself at home.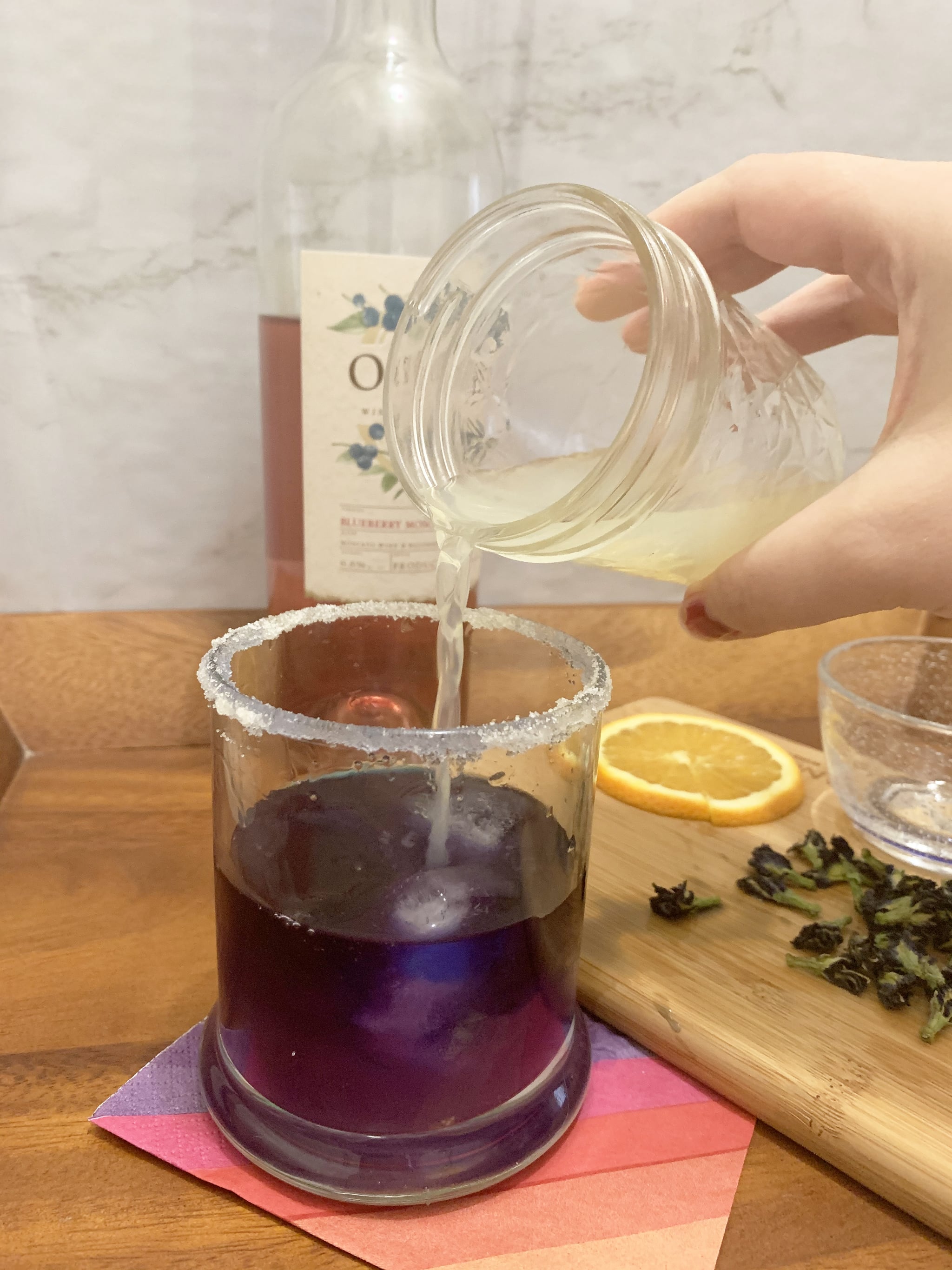 Color-Changing Tropical Moscato Limeade
Adapted recipe by Hedy Phillips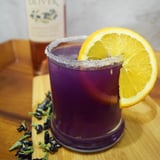 Ingredients
Infused Malibu Rum
8 dried butterfly pea flowers
1 cup Malibu rum
Cocktail
1 1/2 ounces infused Malibu rum
1 ounce lime juice
1/2 ounce simple syrup
2 ounces Oliver Blueberry Moscato
Ice
Orange slice to garnish
Sugar
Directions
Place the dried butterfly pea flowers in a container with 1 cup Malibu rum.
Seal, and let sit for 2 hours.
Strain the rum, and set aside.
Use the orange slice to wet the rim of the glass, and dip in sugar.
Fill glass with crushed ice.
Pour rum into the bottom of the glass.
Combine lime juice and simple syrup in separate glass, then pour over the rum.
Pour Moscato over the rum mixture.
Garnish with the orange slice.
Information
Category

Drinks

Yield

1 drink

Prep Time

2 hours

Cook Time

5 minutes

Total Time

2 hours, 4 minutes, 59 seconds
Image Source: POPSUGAR Photography / Hedy Phillips