What Cheese to Use For Macaroni and Cheese
Laura Werlin: "Anything Can Go Into Mac and Cheese"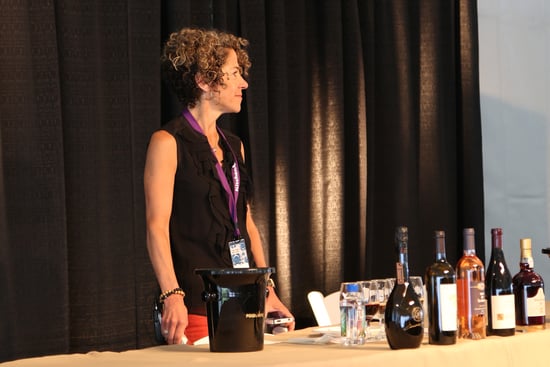 Cheese expert Laura Werlin, author of Mac & Cheese, Please! ($17), taught two jam-packed seminars (who can say no to the American staple?) during the Food & Wine Classic in Aspen. The queen of cheese knows a thing or two about the best cheeses to use for homemade macaroni and cheese, as well as lighter variations to make during the heat of Summer.
Keep reading for Werlin's sage macaroni and cheese advice.
POPSUGAR: When recipe developing, what were your favorite cheeses to use in mac and cheese?
Laura Werlin: The best cheeses to use are the ones that melt the best. Among my favorites are cheeses from Europe like comté, gruyere, and Italian fontina. From this side of the Atlantic, I love younger cheddars, monterey jack, and mozzarella. Basically you want the cheeses that are going to create that gooey-ness that I think should be part of mac and cheese.
PS: Did you discover any cheeses that simply did not work in mac and cheese?
LW: Actually, I discovered the opposite: all cheeses work in mac and cheese in different ways. If you have a hard cheese, then it's never going to become gooey, but it does become nutty when grated and put on the top of a mac and cheese. A brie is magnificent in mac and cheese — it won't be gooey, but it will be creamy. Same with fresh goat cheeses and ricotta. Other soft, fresh cheeses are terrific in mac and cheese. Really, you can use almost any kind of cheese; it just depends on the outcome that you're looking for.
PS: What was your favorite recipe from the cookbook?
LW: I can't choose my favorite recipe! I love all 50 of them for different reasons. What was fun for me was creating so many variations on the basic mac and cheese theme. What I realized is that basic mac and cheese is truly a blank canvas for anything that's at the farmers market, in a charcuterie store, in the grocery store, in your pantry, in your refrigerator. It's kind of a catchall in the very best way. It was just a matter of taking flavors that I like — for instance, Indian spices. I put that into my Indian spice roasted cauliflower and spinach mac and cheese. I managed to fold most of what I like into a mac and cheese someway or another.
PS: Because it's Summer, what is a lighter macaroni and cheese that you recommend making during warm weather?
LW: I have a whole chapter called "Lighten Up, Cool Down," and those recipes are all intended to be a little easier to make and a little lighter in spirit and in substance. I really like the goat cheese, mozzarella, basil, and tomato mac and cheese. It's basically a play on the caprese salad. It's just so light, summery, easy to make, and really satisfying.
Here's Laura Werlin's recipe for caprese-inspired mac and cheese.