Top Chef Secrets
9 Top Chef Insider Tips and Secrets, Straight From Judge Tom Colicchio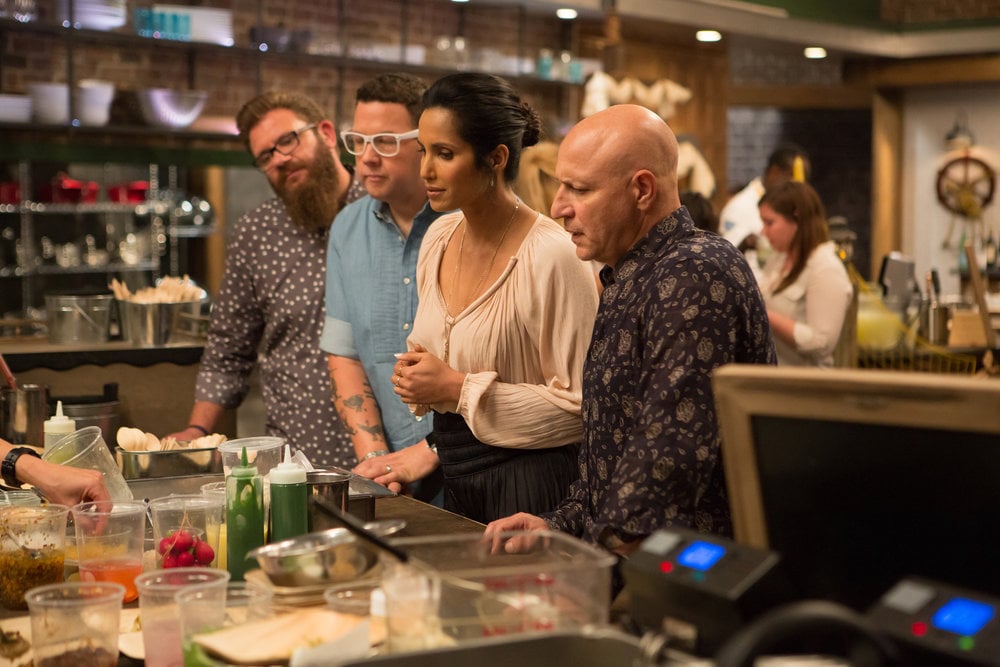 Top Chef has filmed a whopping 14 seasons so far, and the challenges keep getting tougher and the chefs keep getting better. On each show, host Padma Lakshmi and regular judges Gail Simmons and Tom Colicchio carefully judge the chefs on what food they've created and simultaneously crown a winner and educate the world on the beauty of cooking. I recently sat down with Colicchio at an event for Naked Juice's Drink Good Do Good campaign, and while he remained mum on a lot surrounding the show, he did divulge a few secrets on getting cast and how the show works.
All the storylines are added postproduction. "If someone's making out with someone, I don't really care, I'm here for food only," Colicchio said of all the editing done after the show finishes filming.
Judging can take several hours. While the food is eaten immediately after it's prepared, the judges will spend hours going over who should go home. "We really care and fight for a consensus," Colicchio said. And he said while the judges don't pick favorite chefs, they will try to be honest about who really deserves to be there and who falls flat.
Each dish is judged independently. "You can win five in a row, but if number six isn't good, you're out. It's not cumulative," he said. That's why sometimes you'll see a fan favorite go home midseason if they make a tiny mistake. The judges don't care what you did last week, only what you're doing right now.
Judging is based on a few things: is it cooked correctly; what was the intention; the balance of acidity, seasoning, and composition; and how well do they adhere to the challenge. The judges don't use a numerical or weighted system for judging, but they go with their gut.
The show's producers have no say in who stays or goes — which can't be said for all reality shows, according to Colicchio.
Chefs need to have a very strong and diverse résumé to be considered for the show. Usually cast members are executive chefs and chefs de cuisine, but some talented sous chefs will also be cast. In the past, producers have tried casting talented students, but they never make it, because according to Colicchio, Top Chef requires the type of skill and mentality that only come with working in a kitchen for years.
The only dealbreaker for getting cast on the show: having worked for Colicchio previously.
Chefs can't bring phones, magazines, or recipes with them to shoot, and they have no access to TVs or radios. They can bring a blank notebook to use while on the show, but that's it.
Colicchio only ever spit out food during the show twice. Once was caught on camera, and once was not. The one that was caught happened in a desert, so if you're feeling ambitious enough to go back and find it . . .