Source: POPSUGAR Photography / Sheila Gim

Freshly baked chocolate chip cookies are just about the best way to welcome guests. That's why we partnered with DoubleTree by Hilton for this post.
One of my favorite nostalgic memories is a long family road trip. We'd been traveling for hours, so when we finally arrived at our exciting destination, I couldn't get over how we were welcomed at the front desk with freshly baked chocolate chip cookies. They were the most delicious thing to bite into — and somewhat indulgent since we hadn't had dinner yet. It seemed fitting to re-create that experience to share with friends I had arriving later in the month. Just prior to their arrival, I placed a few warm cookies onto a silver tray on the guest bedroom bed alongside a stack of magazines and books. Everyone absolutely loved the welcome, with smiles all around.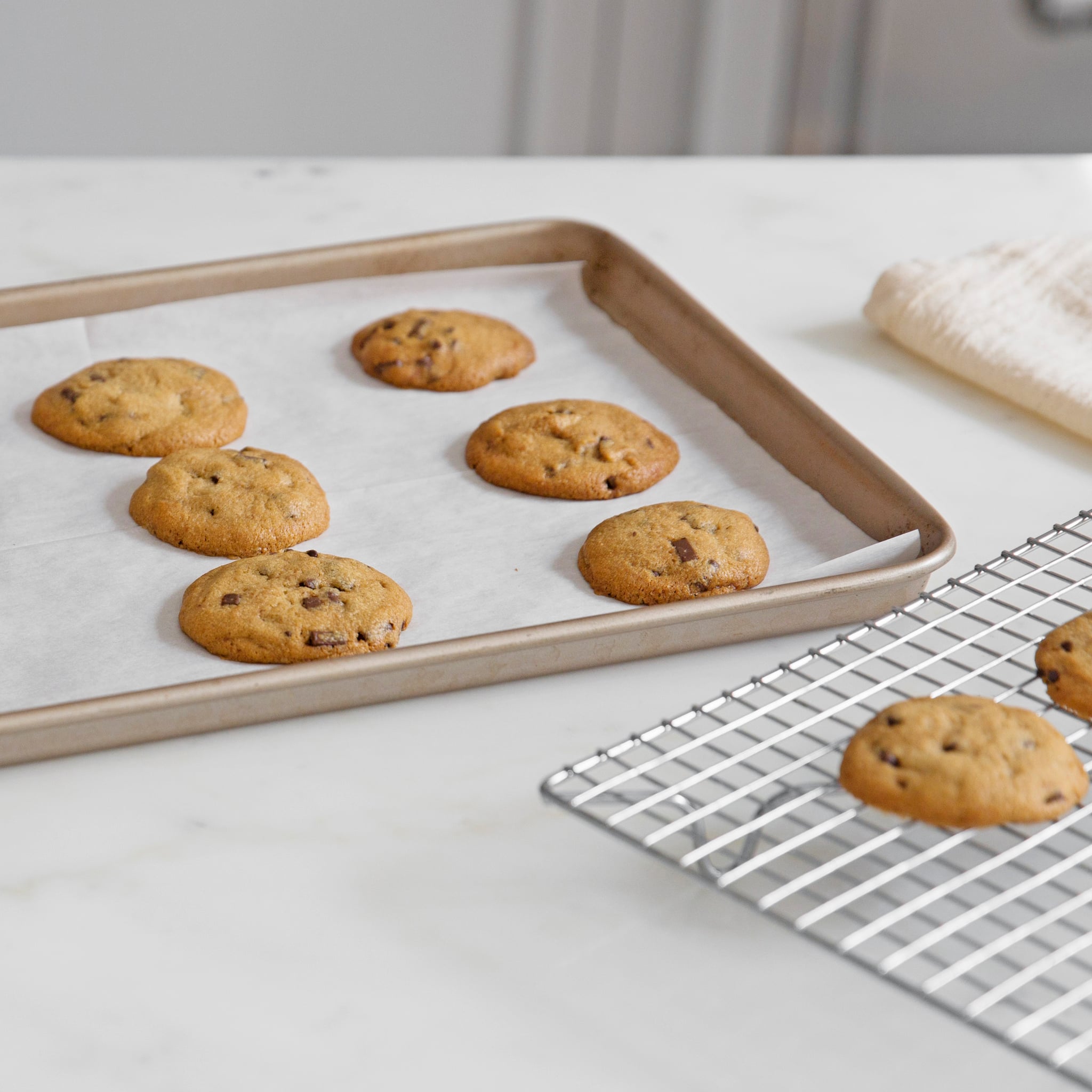 Image Source: POPSUGAR Photography / Sheila Gim
Check out the recipe below for deliciously moist chocolate chip cookies that your guests will love.
Supermoist Chocolate Chip Cookies
From Sarah Lipoff, POPSUGAR Food
Notes
The trick to this recipe is using soft brown sugar fresh from the bag at the grocery store. You'll be rewarded with the best chewy texture.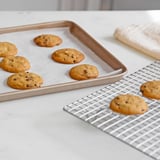 Ingredients
1 1/2 cups packed brown sugar
1/4 cup white sugar
3/4 cup sweet-cream butter, at room temperature
1 tablespoon vanilla extract
1/2 teaspoon salt
1/8 teaspoon cinnamon
2 eggs
1 teaspoon baking soda
1/2 cup quick-cooking oats
2 1/4 cups flour
2 cups semisweet chocolate chips
3/4 cup chopped walnuts
Directions
Preheat your oven to 350°F and line baking sheets with parchment paper.
Pulse the quick-cooking oats until they are semi fine, resembling coarse sand.
Beat butter with an electric mixer until creamy and smooth, for about 1 minute. Then add the brown and white sugar and mix again for 5 minutes at high speed.
Add one egg at a time, whipping between each egg.
Mix in the vanilla, salt, and cinnamon and mix again.
Dust the batter with the baking soda, then slowly start adding in the flour on low speed until it's all incorporated.
Mix in the chocolate chips and walnuts until evenly dispersed.
Scoop batter onto the sheet pans, leaving about 2 inches around each for baking room. Bake for 10-12 minutes or until the tops have browned. Cool on a baking rack before serving.
Information
Category

Desserts, Cookies

Cuisine

North American

Yield

3 dozen cookies

Total Time

14 minutes, 59 seconds
More From DoubleTree by Hilton
DoubleTree by Hilton believes that nice is contagious. It starts with a warm chocolate chip cookie, but doesn't stop there! You'll find that the niceness you experience stays with you and, chances are, you'll want to pass it on. Share your stories of niceness with us using #NiceTravels.