Philly Cheesesteak Recipe | Video
Philly Cheesesteak 2 Ways: Pat's vs. Geno's
Two iconic Philadelphia restaurants — Pat's King of Steaks and Geno's Steaks — vie for the unofficial title of best Philly cheesesteak. While both serve up superb sandwiches, avid fans will tell you that they differ in a few crucial ways. Watch the video to learn how to make sandwiches inspired by both (and for a crash course in Philly-cheesesteak history), and then conduct your own taste test between the two.

Philly Cheesesteak, 2 Ways
From POPSUGAR Food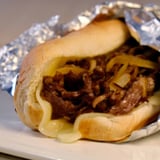 Ingredients
1 pound rib-eye steak
Vegetable oil
1 large white onion, thinly sliced
Salt
Pepper
Seasoning salt
1 crusty Italian roll
1 soft hoagie roll
2 tablespoons butter, at room temperature
4 tablespoons Cheez Whiz
2 slices provolone cheese
Thinly sliced bell peppers, sautéed (optional)
Directions
Freeze the steak until firm, at least 8 hours. This will make it easier to slice thinly. Once firm, slice it as thinly as you can.
Heat a pan over medium-high heat; once it's hot, add 1 tablespoon of vegetable oil. Add onions, and sauté them until they start to become translucent and lightly browned, about 5 minutes.
Next, brush the steak with oil, and season it generously with salt, pepper, and seasoning salt. Add meat to the onions, and cook for about 2 minutes, stirring once. Separate the meat and-onion mixture into 2 distinct piles. For the Pat's-style cheesesteak, chop up the meat with a metal spatula.
While the meat is cooking, slice the rolls in half lengthwise, spread 1 tablespoon of butter on the insides of each roll, and toast them with a little butter in a separate pan. (The crusty roll is for the Pat's-style cheesesteak, and the softer roll is for the Geno's-style cheesesteak.)
Add your cheeses to the meat-and-onion mixture. For the Pat's-style cheesesteak, use Cheez Whiz, and use provolone for the Geno's-style cheesesteak.
Once cheese is melted, use a spatula to scoop the meat, onion, and cheese mixture onto the center of the bread. Top with sautéed peppers (if using). Serve hot.
Information
Category

Main Dishes, Sandwiches

Cuisine

North American

Yield

2 sandwiches