Padma Lakshmi's Favorite Restaurant in New Orleans
Padma Lakshmi Shares Her Love of New Orleans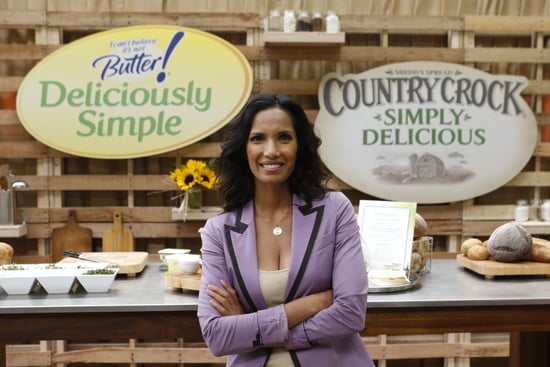 Despite being the Top Chef host for a decade now, there's no sign of wear and tear on Padma Lakshmi. Up close, she's stunning and looks well rested, her youthful skin practically glows, and she exhibits a calm demeanor. She was at the New York City Wine & Food Festival's Grand Tasting Tent to promote two new products: I Can't Believe It's Not Butter Deliciously Simple and Country Crock Simply Delicious. After smearing spread on a few bites of toast, we sat down and talked about Top Chef and her experience in New Orleans.
POPSUGAR: How does it feel to have just completed another season of Top Chef?
Padma Lakshmi: It's my 10th season. I'm really proud of the show. We are 45 percent up in ratings from last season. I think it's a testament to my producers and Tom and Gail. There's nothing like Top Chef. With all humility, we are a really big team that works as a well-oiled machine together. We all know our roles and we all do them well. We genuinely like working with each other. I think it's particularly true of New Orleans. Usually no matter how much you love your job or love your colleagues, after six weeks being away from home, you want to sleep in your own bed. This time we were a little sad.
PS: Do you have any favorite chefs from this season?
PL: I can't. But sometimes you're not even rooting for the front-runners. Sometimes you wind up rooting for the screwups. You're like, "Come on! You know this!" You root for the problem children. It's never easy to tell someone to go home. I'm with these chefs more than anybody else, and each group of chefs is like a class, like a fourth-grade class. You see them working so hard, and they are so passionate about what they do. It's hard to say, "Please go home." It just happened that someone else's dish was better than theirs that day.
PS: Do you have some memorable moments from New Orleans?
PL: I did another series on Bravotv.com called Padma's Picks, and it's actually a prequel to Top Chef. It's a love letter to New Orleans. [The episodes] show parts of the city that we typically don't have time to show on Top Chef. It gives you a little idea about the casting process. It's more a travelogue. At the end of it, there is a little competition to see who moves forward.
Keep reading to find out her favorite restaurants.
PS: What were your stomping grounds in New Orleans?
PL: I didn't eat a lot outside of the set. I cook for my daughter, even when we're on location. If I wasn't eating for work, I was eating at home with her. I can tell you about a great food truck called Taceaux Loceaux. I surprised the crew, rented the truck for three hours, and parked it outside of our studio for all-you-can-eat tacos. I wanted everyone to try it! The truck doesn't even have a phone. They just send out tweets about where they are. I was stalking them for three or four days and I finally found them and got the chef's number. I said, "I want you to come and cook in the parking lot." It was great fun.
PS: You said you've developed a newfound appreciation for filé powder since shooting in New Orleans. What other tricks can you offer for making exceptional gumbo?
PL: The thing about gumbo is to know that even though it has a lot of ingredients, it's a stew, basically. Every ingredient, whether a protein or vegetable or herb or starch, has its own cooking point and time. I recommend chopping all your vegetables and having them all laid out on your counter in the order that they should go in the pot. That way you're not frazzled. Especially if you're trying a new recipe. That way you're calm and ready.
Source: Jason DeCrow/Invision For I Can't Believe It's Not Butter!® Deliciously Simple™ and Country Crock® Simply Delicious™/AP Images