America's Test Kitchen Stuffing Recipe
This Stuffing Recipe Proves Basic Doesn't Necessarily Mean Boring
As POPSUGAR editors, we independently select and write about stuff we love and think you'll like too. If you buy a product we have recommended, we may receive affiliate commission, which in turn supports our work.
We're thrilled to bring you kitchen wisdom from our friends at America's Test Kitchen. They're sharing a fuss-free Thanksgiving stuffing recipe that's bound to become a classic on your holiday table.
In recent years, there's been a proliferation of bread stuffing recipes with delusions of grandeur. Sure, stuffing with a dozen or more ingredients (wild rice, dried cherries, Italian sausage, fennel seeds, pine nuts, eggs, cream . . . ) can be delicious, but we wanted to revisit an older, simpler style of stuffing to counter both the excess of the Thanksgiving table and the stress of preparing it. We wanted purer flavors and less fuss.
To make an easy casserole that would be as tasty as stuffing that cooks in a turkey, we took a long look at our ingredient list and considered what was essential. We subtracted ingredients — and then we had to figure out how to multiply flavor. Onion and celery were a must, but poultry seasoning took the place of the bevy of herbs that season many stuffings. For the liquid, we got the meatiest flavor not only from using all chicken broth, but also by reducing some of the broth to concentrate its flavor. Finally, a nutty browned butter provided richness and a crisp topping to our classic stuffing.
Happy Thanksgiving from America's Test Kitchen to your kitchen.
Looking for more great America's Test Kitchen recipes? Sign up for a free trial of America's Test Kitchen's 2-week all-access membership. Membership includes recipes (tested by 60,000 at-home cooks!), unbiased equipment and ingredient ratings, innovative techniques, and how-to videos every month.
Notes
Use a hearty white sandwich bread, such as Arnold Country Classics White Bread (our taste-test winner). To make ahead: Stuffing without butter topping can be refrigerated in a baking dish, covered with aluminum foil, for up to 1 day. To finish, remove foil, drizzle with melted reserved browned butter, re-cover, and bake for 10 minutes. Uncover, and bake until stuffing is heated through and top is golden brown, 35 to 40 minutes.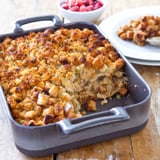 Ingredients
2 pounds hearty white sandwich bread, cut into 1/2-inch pieces
16 tablespoons unsalted butter, cut into 16 pieces
4 onions, finely chopped
4 celery ribs, finely chopped
4 teaspoons poultry seasoning
1 3/4 teaspoons salt
1 teaspoon pepper
6 cups low-sodium chicken broth
Directions
Adjust oven racks to upper-middle and lower-middle positions, and heat oven to 325°F. Divide bread between 2 rimmed baking sheets, and bake until golden brown, 50 to 55 minutes, stirring bread and switching and rotating sheets halfway through. Cool completely on baking sheets, and then transfer to large bowl.
Melt butter in 12-inch skillet over medium-low heat. Cook, stirring constantly, until butter is nutty brown, 5 to 7 minutes. Reserve 3 tablespoons of browned butter in a small bowl. Add onions and celery to skillet, increase heat to medium, and cook until browned, 12 to 15 minutes. Stir in poultry seasoning, salt, and pepper, and cook until fragrant, about 30 seconds. Add vegetable mixture to bowl with toasted bread.
Increase oven temperature to 425°F. Add 2 cups of broth to the now-empty skillet, and cook over high heat, scraping up any browned bits, until reduced to one cup, 6 to 8 minutes. Combine remaining four cups of broth and reduced broth with vegetable-bread mixture, and let sit for 10 minutes, stirring once. Transfer stuffing to 13-by-9-inch baking dish, and press into even layer. Drizzle reserved browned butter evenly over top, and bake on upper-middle rack until golden brown and crisp, 35 to 45 minutes. Let cool for 15 minutes. Serve.
Information
Category

Side Dishes, Stuffing/dressing

Cuisine

North American

Yield

10-12 servings