Stretches to Help Relieve Knee Pain
ITB Relief: Stretch Your Booty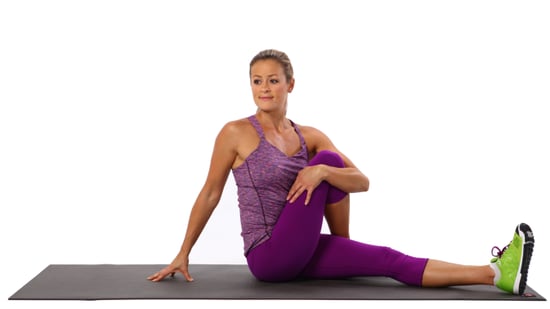 The iliotibial band (aka ITB or IT band) runs down the outside of your upper leg and if you run or bike this band of fascia can get tight. So tight it can pull your kneecap out of alignment causing a world of pain. Aside from working the tight IT band with a foam roller it's a good idea to stretch your glutes. The iliotibial band and the glute max, the biggest of the booty muscles, are connected. If your glutes are tight, they tug on your ITB, which in turn can tug on your kneecap creating inflammation in the joint, making it important to stretch your bum.
Here are three stretches I particularly like:
Eagle Spinal Twist: Gently stretch your glutes and where the muscle connects to the fascia in the relaxing spinal twist.
Seated Spinal Twist: A classic yoga pose that really stretches the glutes.
T-Hip Stretch: This stretch can feel really intense but can also be done lying on your back if this variation feels too intense.
POPSUGAR Studios