Personal Essay on Trying Out For a Professional Sports Team
I Tried Out For a Pro Soccer Team Out of Shape — but It Was a Dream Come True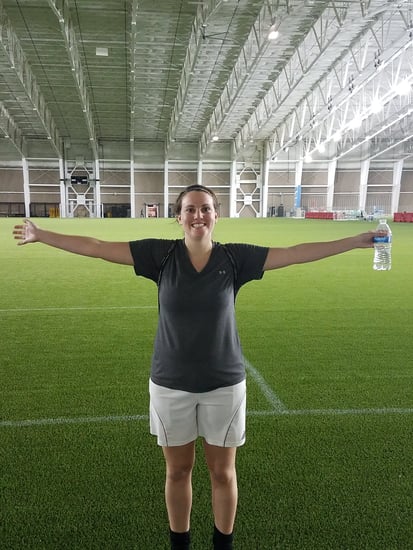 What did you want to be when you grew up? What would you do if you had the opportunity to go for it now? When people asked me what I wanted to be, I always said, "Mia Hamm." While that dream didn't come true, I've got to say I just hit a milestone 8-year-old me could've only dreamed of, and I'm pretty dang proud. I tried out for a professional soccer team . . . as a completely regular out-of-shape person. If I can do this, you can do anything.
Part I: Pre-Tryout History
I grew up playing soccer from the age of 4 and strived to be the best I could. That was until high school when I realized I'd rather just enjoy the sport than be on a team of insanely overdramatic girls, leaving me to stick with American Youth Soccer Organization (AYSO). I played until I graduated high school then played intramurals in college and kept playing in city leagues after I graduated. I still play in a league twice a week because why not?
Since I never really stopped playing, I have kept up a decent skill level. I can admit I'm not where I'd like to be, but I'm not as bad as I was worried I might be at this age (28). Here's the catch: I'm 100 percent in the worst shape of my life. Since changing job locations about six months ago, I haven't found a gym rhythm and am now the proud owner of extralarge love handles. Needless to say, going into tryouts was a bit nerve-racking for reasons beyond my skill level.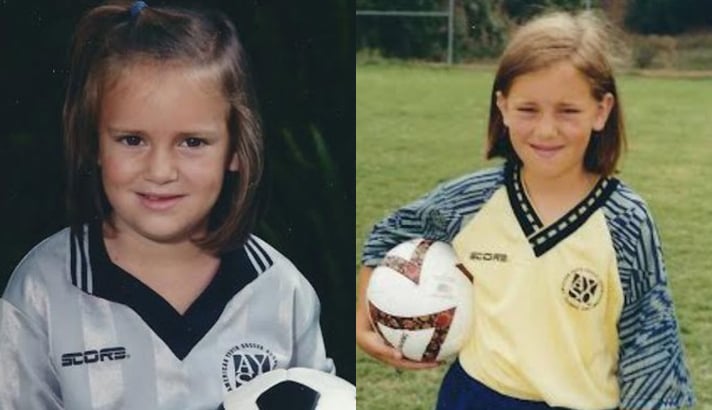 Part II: Utah Royals Announce Open Tryouts
A few months ago, Utah got big news that a women's professional soccer team, the Utah Royals FC, was arriving in 2018. I could not have been more thrilled about this. Real Salt Lake is great, but we need a women's team to rally around.
Then in early 2018, I was perusing Facebook when a Royals ad popped up saying that they were looking for local talent. Naturally, I clicked on the link and submitted a form, obviously thinking there was no way I'd be asked to join once they saw I only played up until high school.
Boy, was I wrong.
Part III: Open Invite and 10 Days to Train
Within a week I received an email saying, "Thanks for submitting, if you want to try out: pay $100, fill out the waiver, and show up."
WHAT?! I couldn't believe it. All I had to do was pay $100 to live out a lifelong dream . . . in the worst shape of my life and with no college experience at all . . . and being nearly a decade older than all the girls there.
To quote Hamilton, I was not throwing away my shot, despite having only 10 days to train and not wanting to look like a total fool.
I trained each day for at least an hour until the day of tryouts. I did sprints and footwork drills, played in two additional soccer games a week, and lifted weights. Obviously 10 days isn't going to get anyone in shape, but I noticed I could sprint for longer and was feeling more confident.
BRING IT ON, ROYALS!
Part IV: The Reckoning
Can a dream come true also be somewhat of a nightmare? As I walked into the tryouts, girls from USC, Berkeley, TCU, Texas A&M, UCF, and other Division 1 schools were stretching and getting mentally prepared. I was nervous, excited, anxious, happy, and every emotion wrapped in one.
I found a friend I had gone to school with, who also didn't play in college, making me feel a bit more at ease. We made friends with a few other girls and tried to pretend we all belonged there.
Before we knew it, it was time to go.
It's a funny thing — when you know you truly don't stand a chance of making the team, you realize you've got nothing to lose. Other girls seemed so tense and stressed, but that all melted away for me once we started. I was there for fun and to live out a childhood dream. So, I went out there and gave it my all; no inhibitions were going to hold me back.
All I can say is I'll never regret doing anything that makes me realize that I'm capable of more than I thought I was.
We started out with warmup exercises (which tired me out on their own), passing drills, and keep-away. They VERY quickly divided us into two groups of 30 girls, meaning they knew who belonged in group A (D1 collegiate athletes) and group B (other collegiate athletes and randos) before we had stepped on the field. But really, is that surprising?
I made friends with some local girls and a few from other out-of-state college programs. We stuck together, tried to make each other look good, and had fun. Truthfully, I may have been a little overly easygoing, but hey, I might as well make friends while I'm at it! Plus, Becky Sauerbrunn (player on Royals and captain of the US Women's National Team) had just walked by us, and I almost died of joy.
After about two hours of constant running and scrimmaging, they told us we still had 30 minutes left to do one last scrimmage. Let me tell you, this was not a treat for many of us. We were told it would be two hours, so our mental preparation had worn out. Not only that, I was dying. Did I mention I found out earlier that day that I had cysts on both my ovaries? That made overexerting myself even more enjoyable!
I knew I had to push myself as much as I could the last 30 minutes. I couldn't have any regrets. I did have to sub out a couple times because of the immense pain I was in, but I managed to make a really nice goal and made a couple girls who had not been so happy with my performance happy with me again.
After an eternity, the 30 minutes ended, and we were thanked and dismissed. We shook the coaches' hands and went on our way.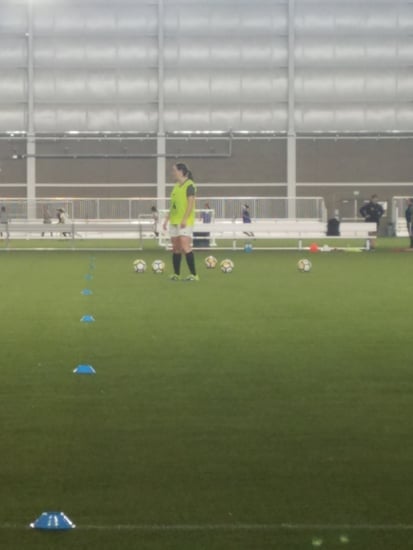 Phase V: Feeling Proud of a Small, Slightly Ridiculous Accomplishment
My body was beyond exhausted, but I couldn't help but be filled with happiness and to float off the field as I walked out with my beaming husband, Andrew. Many girls left frustrated they didn't play their best, but I left feeling fulfilled and, frankly, like a boss. I just put myself on the line in my chubby state and knew 8-year-old me would've never believed this day would come. Plus, I played pretty well and didn't feel totally out of my league in my B group. Go me!
Yes, I did get an email at 1 a.m. letting me know I didn't make the team. Was I sad? No. I mean, I can forever have the best two-truths-and-a-lie combo ever! Not only have I been married twice to the same guy, but I also tried out for a professional women's soccer team!
If I, an average, out-of-shape soccer player, can go out of my comfort zone to live out a dream, what can you do? Be the person and do the things that your younger self would want you to do! (Unless it's illegal or something, then don't do it.)
I want this story to help women around the world to not be down on themselves for not being everything the world wants them to be. We expect ourselves to be the best at a million things or else we're not good enough. Let me tell you, THAT'S BS! The happiest women I know are true to themselves. They don't worry about what they can or can't cook or if they come off too bossy at work; they go for it and don't look back.
So what's your dream? What does 8-year-old you know you can accomplish? Go for it! Hey, if you've already done it, go you. I'm jealous you've got it so together.
All I can say is I'll never regret doing anything that makes me realize that I'm capable of more than I thought I was. Even if it does mean I look a little foolish to others, and I catch myself thinking, "Did I really do that?" Leave your inhibitions at the door! What have you got to lose?
Image Source: Adrienne Rasband