Cheryl Burke From Dancing With the Stars Shares Eating Healthy Tips
Cheryl Burke Keeps It Healthy Even on the Go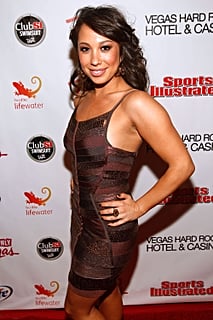 With the new lineup of Dancing With the Stars announced and training under way, cast member Cheryl Burke is once again on the go. Because the two-time DWTS champion splits her time between the show and managing three dance studios, she is no stranger to travel. Cheryl, 25, recently told Shape that keeping up with healthy eating habits "can be especially grueling" when she's away from home. Here are some of Cheryl's tips for staying healthy when away from home.
Pack snacks. Keeping healthy snacks on hand is a great way to avoid having to eat out all of the time. "I'll munch on Triscuits and peanut butter or cut-up vegetables. And I always have a South Beach Living protein bar, fruit, or almonds in my bag."
Eat in the morning. Cheryl's learned to never underestimate the power of breakfast. "I used to skip breakfast. But now I know it gets your metabolism going and prevents you from overeating later. My go-to meal is an egg white omelet with lowfat cheese and whole wheat toast."
See more of Cheryl's tips when you read more.
Order it your way. "I ask for restaurant dishes to be made with olive oil rather than butter or for them to hold the cheese. If they can't accommodate me, I find something else on the menu."
Go food shopping. If traveling for an extended period, Cheryl says to get grocery shopping. "If you have a fridge in your hotel room, stock up on a few healthy staples from a local supermarket or Whole Foods. When I'm on the tour bus, I'll make a grocery list that includes salad, nonfat vanilla yogurt, lowfat granola, and organic microwavable soups."
Go with the grain. Skip refined carbs and always go whole grain, says Cheryl. "I feel better about any food choice when it's served with fiber-rich pasta or bread."
Check out the rest of Cheryl's tips in the March issue of Shape, currently out on newsstands.