Pfizer COVID-19 Vaccine For 5- to 11-Year-Old Kids
Pfizer Just Announced the COVID-19 Vaccine Is Safe and Effective in Children as Young as 5 Years Old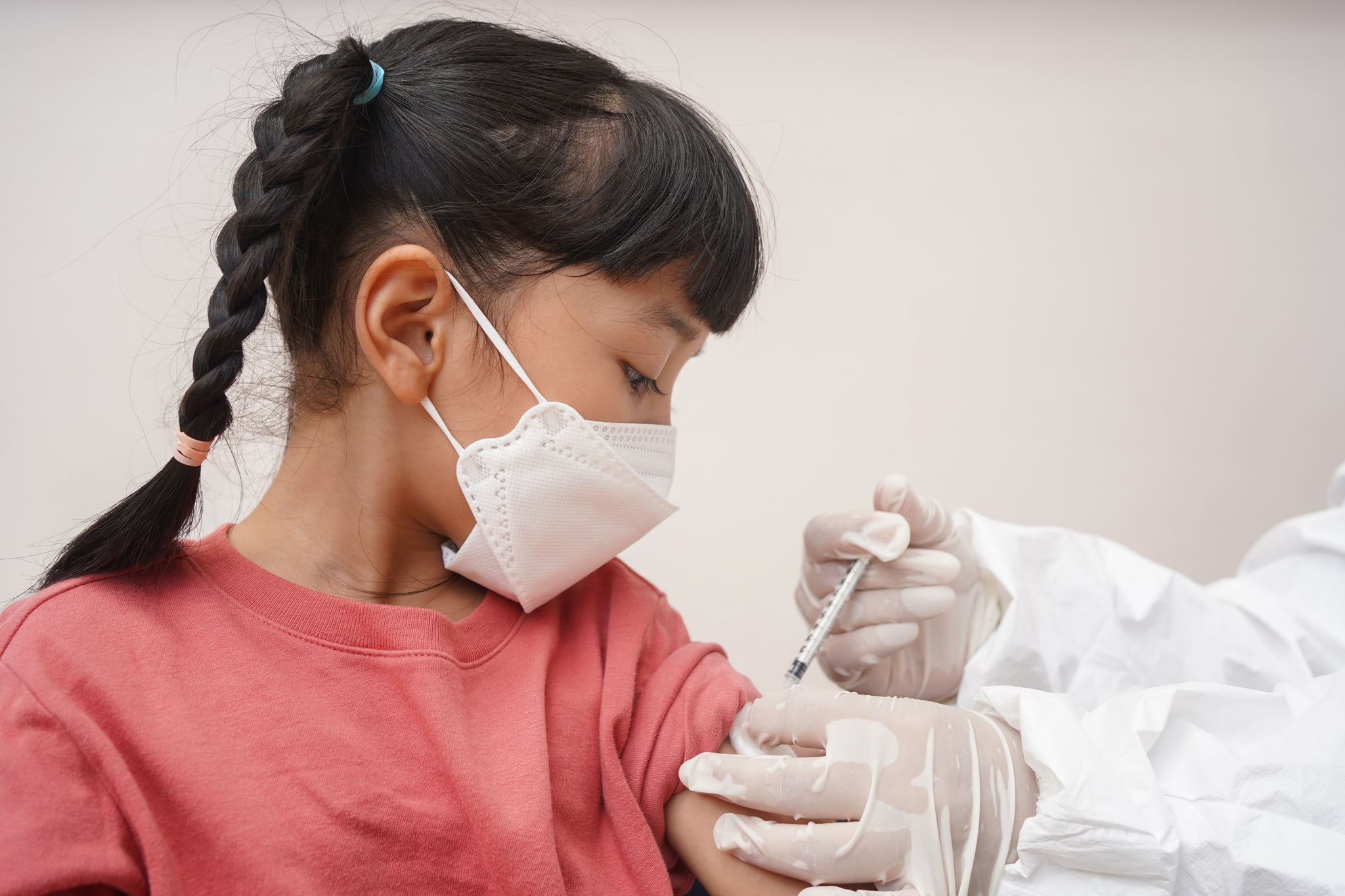 Families with young children have another promising update on when their little ones can get vaccinated against COVID-19. Pfizer just announced that a version of its vaccine is safe and effective in kids as young as 5 years old. According to a new study, a lower dose of its two-shot vaccine — about one-third of the amount given to teens and adults — triggers a healthy and robust immune response in children in this age group.
The next step is for Pfizer to submit its trial data to the Food and Drug Administration, which will review it to determine whether the vaccine is safe and effective enough to be approved for use in kids.
The founders of BioNTech, the company behind the Pfizer vaccine, said on Sept. 10 that the raw data was currently being prepared for regulatory filing, that they had planned to seek approval for its use "in the next few weeks," and that they were working to produce smaller doses of the vaccine in preparation for approval by authorities.
"Things are looking good, everything is going according to plan," BioNTech CEO Ugur Sahin told German newsweekly Der Spiegel.
This may mean they will submit their findings by the end of September, at which point an FDA review could take weeks or even months.
Although such a timeline could mean many children getting vaccinated by Halloween, it may be closer to New Year's Eve. According to Dr. Rochelle Walensky, the director of the Centers for Disease Control and Prevention, she is optimistic that kids in the 5-to-11-year age group may be eligible to get the jab by year's end.
"We want to move quickly, we anticipate moving quickly, but we also want to have the efficacy data and the safety data that the [Food and Drug Administration] will require . . . to make sure that it is the right thing for kids," she said in an interview with NBC's Today last week.
As Walensky said, vaccine makers must first submit their data to the FDA for emergency use authorization. It will then likely take a few weeks, but not months, for the FDA to determine whether the shots are safe for children.
"We will look at that data from the FDA, from the CDC, with the urgency that we all feel for getting our kids vaccinated, and we're hoping by the end of the year," she said.
This possible expansion to children as young as 5 will mean that parents — who have long had difficulty understanding how to move forward with only adults vaccinated — may be able to protect their children amid a tenuous start to the school year, which has seen ramped-up pediatric COVID-19 positivity rates due to the surge of the Delta variant among the unvaccinated.
As for even younger age groups, BioNTech said it has laid out plans to seek approval for the vaccine in children between 6 months and 2 years old later this year.
COVID-19 Vaccine Updates For 12- to 15-Year-Old Kids
This news comes months after the Food and Drug Administration authorized the use of the Pfizer-BioNTech COVID-19 vaccine in children ages 12 to 15 years old in the United States. In early May, the agency amended the current emergency-use authorization to reflect the extended age minimum and include this adolescent group.
That announcement came less than a week after reports revealed Pfizer was expecting to apply to the FDA in September for emergency authorization to administer its coronavirus vaccine to children between the ages of 2 and 11.
In late March, Pfizer reported that none of the 2,260 12- to 15-year-old subjects of its clinical trial who received the vaccine developed symptomatic infections, a sign of significant protection. The drug company said the volunteers produced strong antibodies and experienced side effects similar to those aged 16 to 25.
After it was authorized by the FDA, an immunization advisory committee within the Centers For Disease Control and Prevention met to determine if the CDC would recommend its use in the new age group.
This authorization — which, like the adult vaccine, came much earlier than anticipated — opened up the US vaccination campaign to millions more individuals and was another major step forward in raising the level of immunity in the population, with the ultimate goal to lower the amount of hospitalizations and deaths.
For those parents hesitant to vaccinate their tweens and teens, pediatricians and epidemiologists alike recommend they receive it and note that adolescents in this age group, although technically children, tend to respond to the coronavirus the same way as adults.
Meanwhile, Moderna expects positive results from its own clinical trial of adolescents aged 12 to 17, and has dosage trials underway for children as young as 6 months old that they hope to submit by year's end.
Image Source: Getty / Narisara Nami