Source: Amazon Prime Video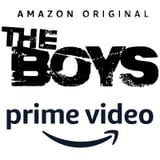 We've partnered with Amazon Prime Video to give you a sneak peek of what you can expect in season two of The Boys. Catch up on the first season on Amazon Prime Video now before the first three episodes of the new season drop on Sept. 4!
If you still see the superhero genre as a bunch of muscled men zooming around in capes, you clearly haven't seen The Boys. Based on the comics by Garth Ennis, season one of this Amazon Prime Video show turned every trope from the genre on its head — including the roles of female characters.
In the world of The Boys, not every superhero is actually heroic — in fact, most of them are just as dark and twisted as the supervillains they're fighting. That goes for the women as well as the men. From Queen Maeve's jaded cynicism to The Female's tortured past, the female characters on The Boys are complex and multilayered — a refreshing treatment for a genre that hasn't always given women a fair shake.
Before the first three episodes of season two debut on Amazon Prime Video on Sept. 4, take a moment to appreciate the women of The Boys. Ahead, refresh your memory on all of the badass women you met in season one — plus, get a sneak peek at the female superhero everyone will be talking about in the new season.