Unbreakable Kimmy Schmidt Interview About Season 3
Ellie Kemper Doesn't Understand 3/4 of the Jokes on Unbreakable Kimmy Schmidt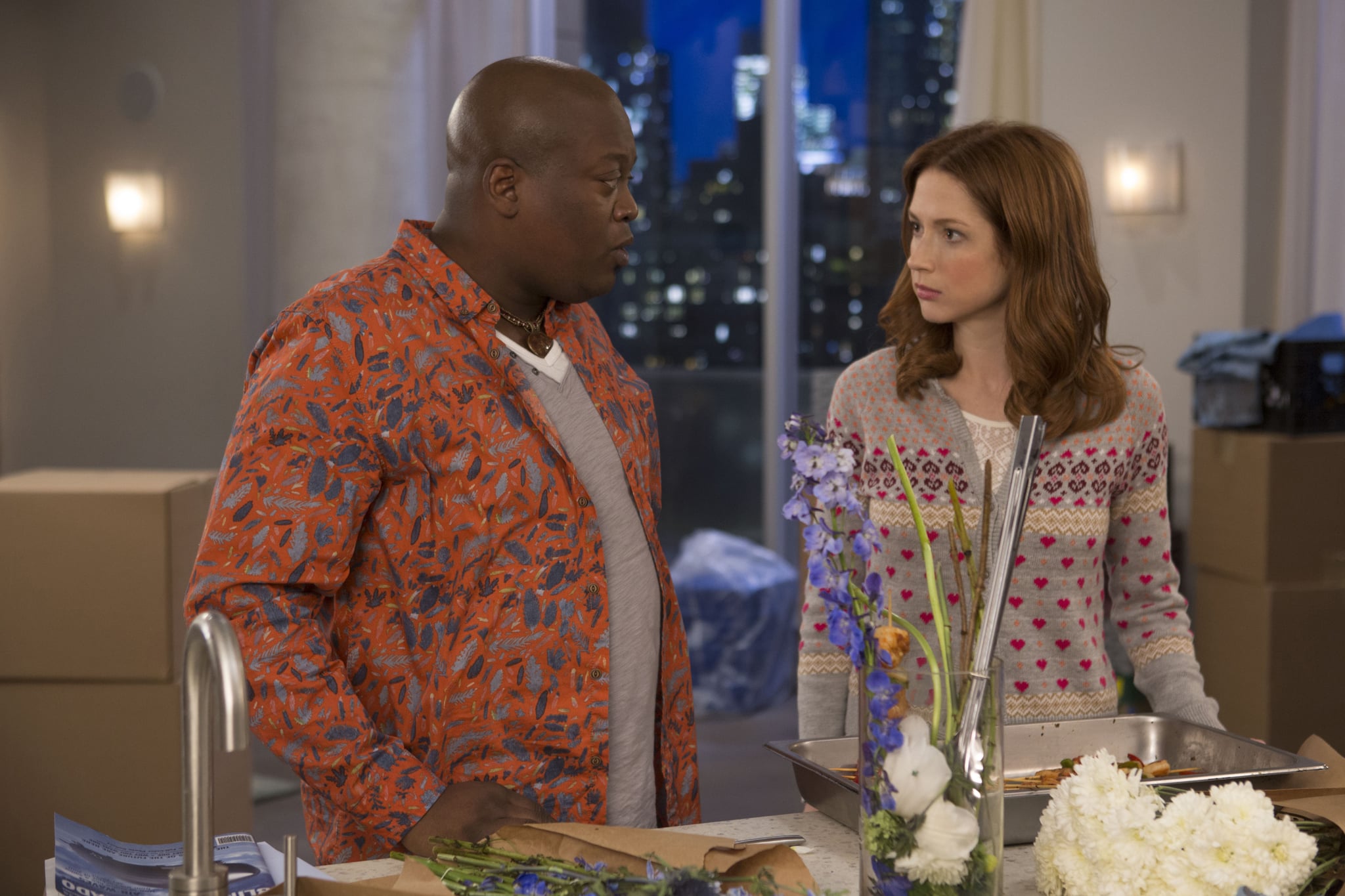 In a hotel room in downtown NYC, Unbreakable Kimmy Schmidt costars Tituss Burgess and Ellie Kemper fawn over each other's outfits and embrace in a hug before sitting down to catch up on life. They haven't seen each other since wrapping the third season of their hit Netflix series, but they've still kept in touch. "We text all the time, but neither of us can be bothered too," Burgess jokes. Now that Kemper is a mom, it's hard to get some time to herself, let alone make plans to hang out. After about three minutes of back and forth, the two finally come to a mutual agreement that they should just watch a series at the same time and text about it.
As I listen to their conversation from across the table, it's like I'm watching an episode of Unbreakable Kimmy Schmidt. "This is my b*tch," Burgess says, nodding to Kemper — and the sentiment is mutual. "It's so weird because I do think when we met each other, it was like, 'Oh, I know you,'" Kemper adds.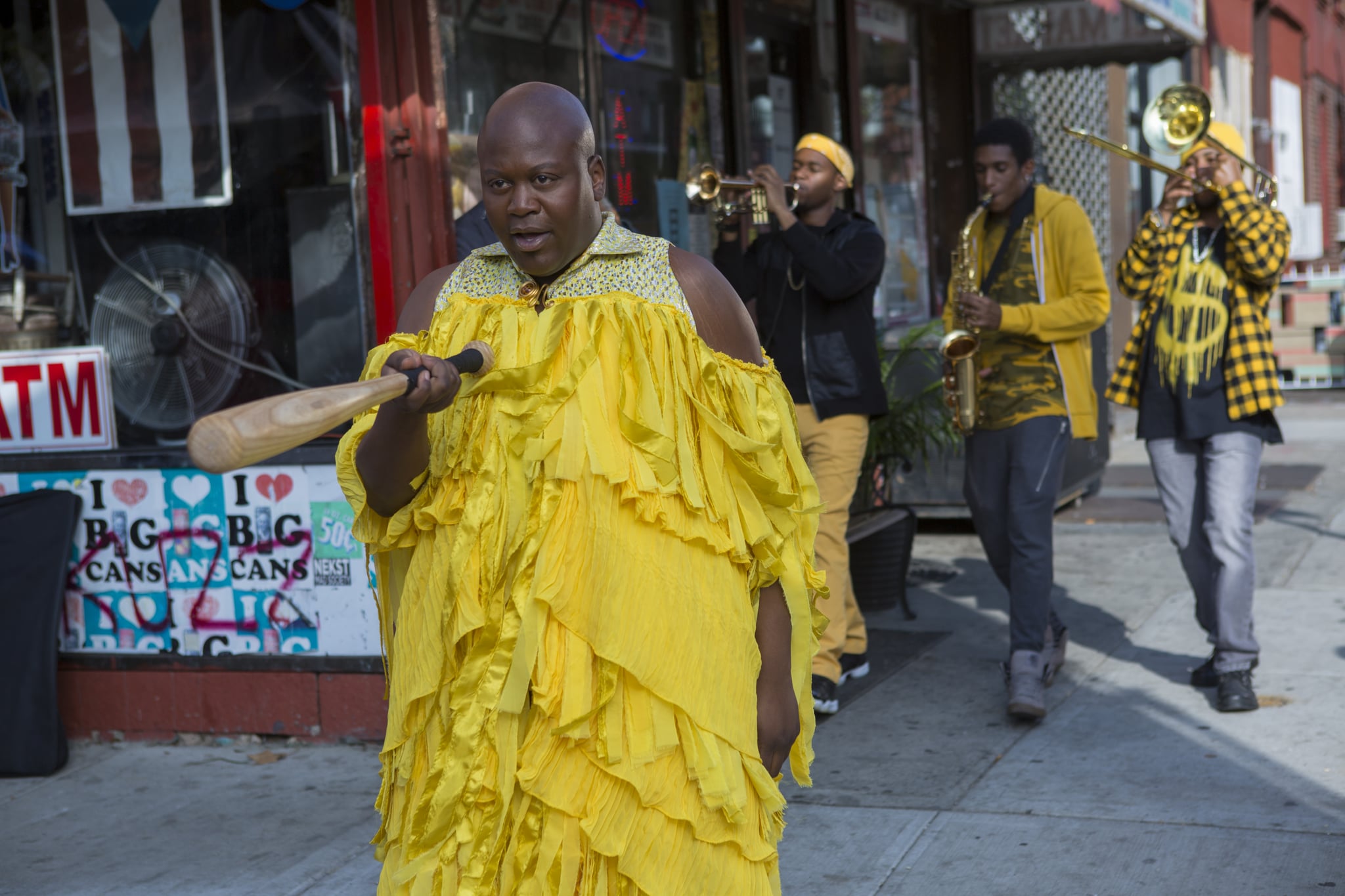 Their real-life chemistry translates on screen, too. While their characters come from completely different backgrounds, their differences ultimately bring them closer. "They help each other be better people, whatever that is," Kemper says. "I think that's why that relationship works, because they're just flawed people who try to fill in the gaps for each other." And as their characters set out to right some wrongs during season three, they will lean on each other more than ever. As Titus tries to overcome his breakup with Mikey by channeling his inner Beyoncé and Lemonading (yes, as a verb), Kimmy will come to the frustrating realization that there isn't always a right and wrong answer for every situation. "Everything is not black and white. I mean, this is black and white," she says, jokingly pointing to herself and Burgess in classic Kimmy Schmidt form. "There are so many shades of gray." But that doesn't stop her from trying to take on the world, every single time.
In today's society, that portrayal of female empowerment on TV is more important than ever. As the show's theme song firmly puts it: "females are strong as hell." While there are many strong male leads, which Kemper argues shouldn't be overlooked, it's the women who run the show, literally. Not only does Unbreakable Kimmy Schmidt star a woman, but it was also cocreated by a woman (Tina Fey, who will reprise her guest-starring role as psychiatrist Andrea Bayden in season three). "What I've always liked about the way Kimmy was written and the way she was created is that she's very girlie," Kemper says. "She loves traditionally girlie-type things, but she's so unbelievably tough, but it's not at odds with her girlishness. She doesn't have to have one without the other."
While the show focuses on some heavy issues at times (hello, the main character was trapped in a bunker for 15 years), it does so in the most lighthearted way, which is in large part due to Fey and Robert Carlock's incredible writing. The jokes are so witty and fast that as you're laughing at one line, you end up missing the next one. Even though Kemper and Burgess appreciate Fey and Carlock's brilliance, most of the time they don't understand three-fourths of the pop culture references. Kemper admits that she once googled a reference, and not even Google knew the answer. "They're so smart that it's almost annoying," Burgess jokes. But that's just one of the many reasons we keep coming back season after season.
Unbreakable Kimmy Schmidt season three hits Netflix on May 19.