Review of Woody Allen's You Will Meet a Tall Dark Stranger, Starring Josh Brolin and Naomi Watts
You Will Meet a Tall Dark Stranger: Fools For Love
Boys will be boys, and as Woody Allen's latest You Will Meet a Tall Dark Stranger proves, they're suckers when it comes to matters of the heart — or well, libido.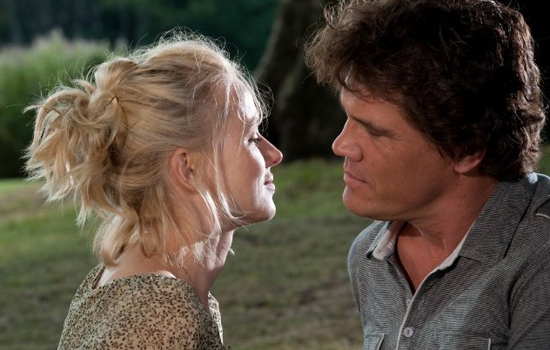 As a rendition of "When You Wish Upon a Star" plays in the background, we meet Roy (Josh Brolin) and Alfie (Anthony Hopkins). Roy is a one-hit-wonder author who is unhappily married to Alfie's daughter, Sally (Naomi Watts), an art gallery assistant with babies on the brain. When the film begins, Alfie leaves his wife Helena (Gemma Jones) when his approaching mortality brings on the desire to reclaim his youth. He satisfies the urge with gym time and by trying to date women half his age. Delusional? Absolutely. But then again, so is every character in this wry comedy. They feed into the notion that the grass is greener on the other side, and this sense of entitlement makes them mostly unlikable (even though at times they are funny to watch). For more on what I mean, just keep reading.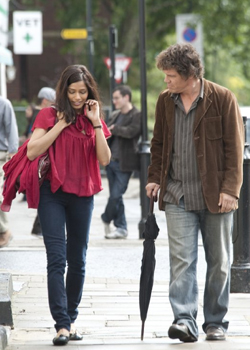 As Sally tells Roy in the film, "Sometimes illusions are better than medicine," and here, everyone drinks the Kool-Aid. A sad-sack Roy glances longingly at his neighbor (Freida Pinto) as she undresses for her fiancé. Even though she's spoken for, Roy invites her to lunch. Meanwhile, Alfie succumbs to his own wistfulness after getting engaged to a former call girl (a hilarious Lucy Punch). But the women aren't exempt from romantic aspirations either; Sally develops a crush on her boss (Antonio Banderas) and her mother can't shut up about her psychic who feeds her B.S. about a future "stranger." It becomes a point of contention for her family: is it healthy for Helena to partake in such fantasy?
Foolish love is a running theme in Allen's work, but here, he hits hard on the lesson of idealism gone wrong (and in one case, right). The actors do a solid job with the script — Hopkins is particularly fun to watch — but the fast pace of the film sometimes works to its detriment. Certain plot points feel glossed over too quickly, and characters (like Banderas's Greg) get dropped before their story lines are tied up.
The movie has several charming moments, but it pales in comparison to other recent Allen works like Match Point or Vicky Cristina Barcelona. Perhaps it's because those films had a certain sex appeal and gorgeous scenery to lure in their audience, whereas Stranger falls back on quick shots of London streets and a squabbling married couple. Hopeless romantics beware: even its "happy ending" is cloaked in cynicism.