Jane the Virgin Theory About Season 3
If This Theory About Jane the Virgin Is True, the Show Is Taking a Huge Turn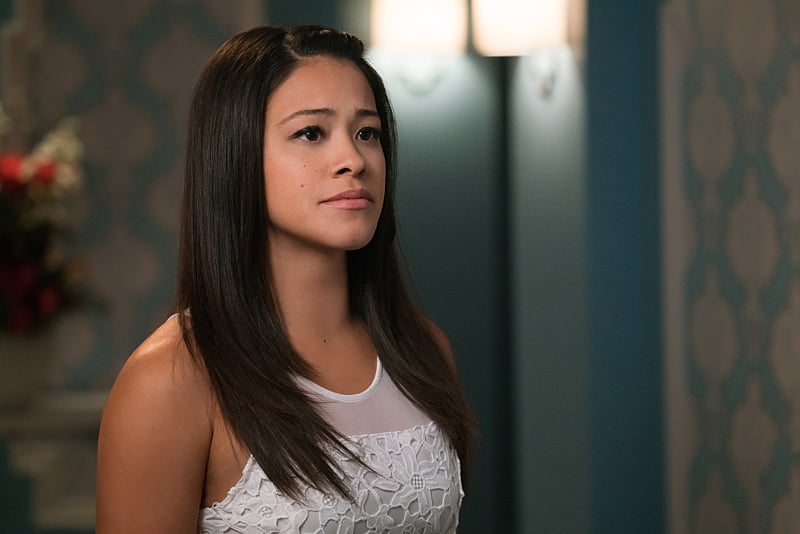 The final episode of Jane the Virgin season two is a real shocker: Jane and Michael get married, but on their all-important wedding night, Michael is shot by his partner Susanna, who is revealed to be Rose. It's very unlikely that he survives, unless for some reason he thinks to wear a bullet-proof vest on his wedding day. The finale is a cliffhanger of epic proportions, and while we can deduce that season three will focus on Jane coming to terms with Michael's passing, there is another hint in the episode about what's to come.
The episode's minor subplot revolves around Jane changing her thesis. Jane has always been preoccupied with romance, and her previous thesis reflects not only her fixation with the "perfect romance," but the show's plot about her getting married to the man of her dreams.
"I can't spend an entire year working on something I'm not passionate about," Jane tells Professor Donaldson on the finale. If the theory holds true that Jane's writing mirrors what happens on the show, that means her current path is changing along with her thesis. Jane can't spend next season settling into boring old married life with Michael, it wouldn't be passionate enough for the pseudo telenovela! But then what does next season hold?
"I know what my new thesis should be. It's a love story loosely based on my grandparents," Jane says. "It'll start in Venezuela and explore class differences, religion, sexual stigma, their journey to America — I may even make it bilingual even!" This doesn't mean that season three will be all about Alba, but it might mean that Jane's path will closely follow Alba's. After all, like her grandmother, Jane is (probably) also a widow now. It also means that next season will be more serious than seasons one and two, exploring real issues.
If you're thinking that this sounds like a stretch, consider the character of Professor Donaldson. She has served as a surrogate for the writers before, like the time she brought up whether Jane's writing would follow the Bechdel test, then the entire episode becomes one giant Bechdel test. On the finale, the narrator brings up that the professor "hates the marriage plot," right as Jane is shifting her thesis from romance to reality. The professor (and the board) accept Jane's new thesis proposal, possibly signaling that the writers are taking a new direction on the new season. We'll find out soon enough!