Jane the Virgin Q&A at 2015 PaleyFest
4 Things We Just Learned About Jane the Virgin
The cast and creator of Jane the Virgin gave fans a sneak peek at next week's episode this weekend at PaleyFest in LA before settling in for a heartfelt Q&A about the show's origins — and its future. Star Gina Rodriguez teared up more than once during the conversation: once when recalling her Golden Globe win and again when a fan in the audience told her she cried "tears of joy" when she watched the show, because it finally portrayed a young woman who looked like her. Gina said she shared that sentiment when the chance to portray Jane came her way. "You seldom get the opportunity to even audition for a woman who is so strong and empowering and . . . a virgin," she said, eliciting some laughs from the crowd. "I found an opportunity to really speak about a subject matter and talk about a culture that doesn't really get recognized . . . and definitely doesn't usually get recognized as the hero, as the leader of the pack. It was an opportunity to talk about women being strong and reproductive rights and women's choices."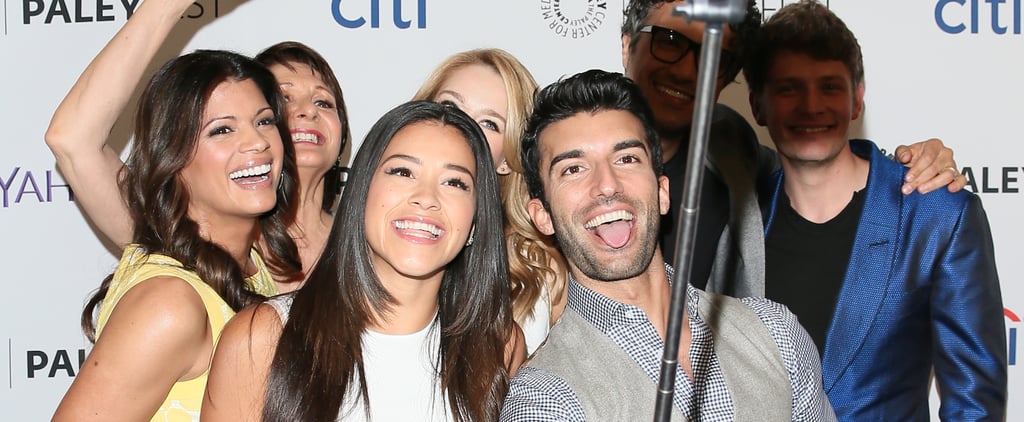 Gina also couldn't help but namecheck another hit TV show that's done much to promote diversity on the small screen in the past year. "The Latino community here in this country is comprised of multiple cultures, [but] if they're going to put us under one umbrella . . . we need to unite. Latinos, we need to unite and get our viewership, just like Empire!" Read on for more from Gina and for four new details we learned about Jane the Virgin at today's Q&A.
We'll See New Relationships Between Familiar Faces
Show creator Jennie Urman praised the cast for opening up a whole new world of possibilities for her as a writer. "You guys just saw the beginning of the bromance between Michael and Rogelio," she said, referencing this coming week's episode that was shown to the audience. Jennie also said she's looking forward to developing new interpersonal relationships between characters who haven't yet interacted much or met. "I wanna see what Petra and Rogelio [have going on]!"
Dr. Luisa Alver, the Gynecologist Who Knocked Jane Up, Will Return
A fan asked the cast which character other than their own they'd love to play for a day. While several actors, including Brett Dier (Michael) and Yael Grobglas (Petra), were quick to cast a vote for Rogelio (Jaime Camil), Gina made a surprising pick: "I kind of want to play Luisa, who got me knocked up. I don't know if I wanna play her — I just wanna be in her mind." Jennie used the moment to give the crowd a hint at what's ahead: "She does come back with a bang, let me say." Given that we already know Jane's baby will arrive this season, maybe we'll see Alver end up in the delivery room?
The Narrator Was a Hotly Debated Aspect of the Show
Jennie said that figuring out the narrator, voiced by actor Anthony Mendez, was the magic ingredient to getting the show right. "When I was writing the pilot, I remember, I would turn in the outlines. Usually the network says, 'OK, go to the script.' And I thought, 'I'm not ready yet!' It wasn't until I cracked Anthony that I knew what the entry point would be," she explained. "Now he's one of ours." But apparently not everyone was instantly on board with the concept. Producer Ben Silverman admitted including the omnipresent voice "was a big debate" with network bigwigs. To which Jennie responded: "I didn't debate!" Now it's hard to imagine the show without Anthony's omnipresent storytelling, which lends the series so much of its telenovela flair.
Brett Dier, Who Plays Michael, Can Do a Mean Impression
In next week's episode, Brett unleashes his best Ace Ventura, and we have to say it's a pretty impressive impression. The moderator couldn't help but ask if he had any impersonations of castmates to share. He admitted he doesn't yet . . . but that now he knows what he'll be doing next week.