Grey's Anatomy Cast Reaction to Sandra Oh's Emmy Nomination
Sandra Oh Feels the Love From Her Grey's Family After Her Emmy Nom: "They Really Know Me"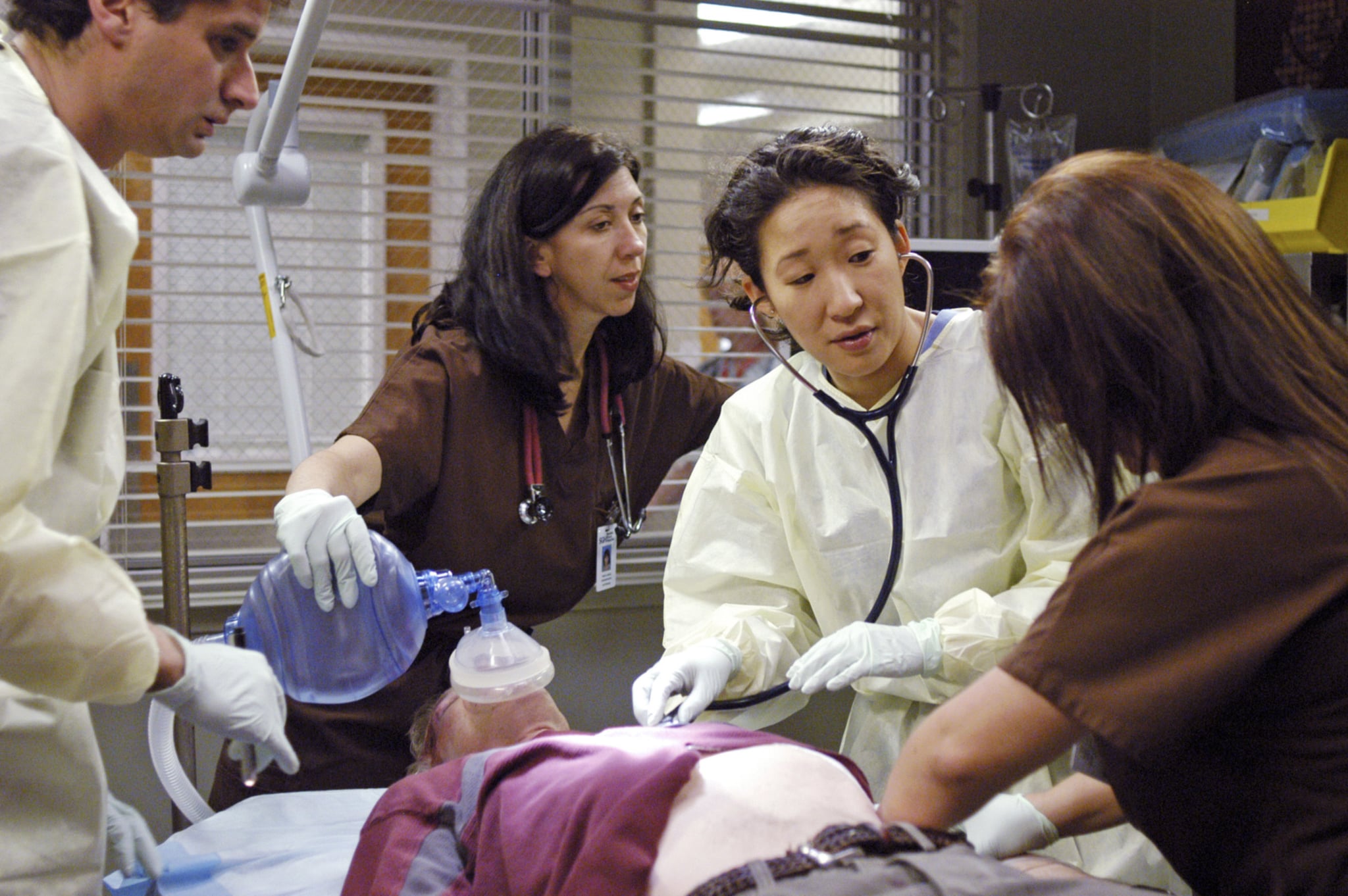 Sandra Oh and her former Grey's Anatomy costars are proof that true friendship endures.
Oh recently received an Emmy nomination for best actress in a drama category for her role as MI6 agent Eve Polastri on BBC America's Killing Eve. Not only was the nomination well deserved — Oh is a revelation as Eve in the thriller — but it was literally historic. Oh became the first Asian actor to ever earn a nomination in the lead actress category and her reaction was suitably flustered, yet adorable. Of course, the internet responded with overflowing praise and admiration for the actress, but the most notable (and sweet) were from her Grey's family.
"You know, they know me. They really know me," Oh told Entertainment Tonight. "I know everyone is happy for me and [I] really, really appreciate their support."
When the announcement of Oh's nomination was made in July, her former costars were some of the first to offer their congratulations. Justin Chambers (Alex Karev) retweeted the Twitter moment dedicated to the news, while Grey's leading lady Ellen Pompeo sent out not one, but two glowing tweets. Oh left Grey's a long time ago, but considering how epic the friendship between Christina and Meredith was (they will forever be each others' true "person"), it's amazing to see how life imitates art.
Yes!!! So incredibly happy for @IamSandraOh who deserves this more than anyone..No one can touch this girls dedication to story telling or her talent. https://t.co/ObpaOk0SKe

— Ellen Pompeo (@EllenPompeo) July 13, 2018
I was not on my phone yesterday and clearly missed ALOT!!! Congratulations @IamSandraOh this is beyond well deserved and your history making is incredibly moving. Can't wait to hear your speech!! Which will have us in tears and laughing at the same time no I'm sure..😘 https://t.co/q8Wv6VoakR

— Ellen Pompeo (@EllenPompeo) July 13, 2018
Katherine Heigl, who played Izzie Stevens on the Shonda Rhimes drama, also took the time to send out her congratulations to Oh via Twitter. "I felt an absolute swelling of pride yesterday when the Emmy nominations were announced and my old co-star and friend @IamSandraOh was on the list for a much deserved best actress nom for her incredible work on one of my new favorite shows @killingeve," she wrote. "Congrats my old friend!"
It's been awhile since I last saw your lovely face but I could not be happier for you! @JoshBkelley and I can't wait for the second season and to watch you kill it at the #emmys2018 !!

— Katherine Heigl (@KatieHeigl) July 13, 2018
This is Oh's first lead role nomination, though she received five best supporting actress nominations during her 10-year run as Dr. Christina Yang. She is nominated alongside Elisabeth Moss for The Handmaid's Tale, Claire Foy for The Crown, Keri Russell for The Americans, Evan Rachel Wood for Westworld, and Tatiana Maslany for Orphan Black.