Red Carpet Photos of Transformers 2 Premiere in LA With Shia La Beouf, Megan Fox, Josh Duhamel, John Voight and Others
Megan Sizzles in White on Shia's Arm at Transformers in LA
Transformers: Revenge of the Fallen finally had its big LA premiere last night ahead of the movie's release tomorrow. Sexy in white Megan Fox and Shia LaBeouf were once again attached at the hip on the red carpet. Michael Bay may have been ready to pitch a fit about the sequel's promotional budget, but Shia and Megan have been making sure all eyes are on them as they brought it around the world. While Shia's raised a few eyebrows with his unconventional quotes, Megan has been busy making sure she doesn't offend any fans.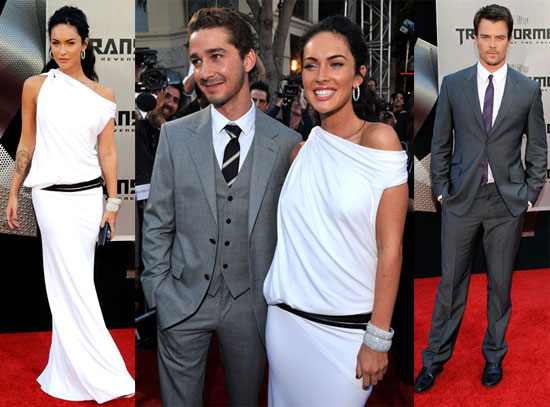 Last night the costars were typically cozy among a star-studded red carpet including guests like Kristin Cavallari, Emile Hirsch, Kim Kardashian and more. With the Summer box office season heating up there are high hopes for Transformers as it barges into theaters tomorrow.
To see more from the premiere including Kendra Wilkinson, Tyrese Gibson, Isabel Lucas and others just read more.
Images include: Megan Fox, Shia LaBeouf, Tyrese Gibson, Isabel Lucas, Deryck Whibley, Michael Bay, Josh Duhamel, Ciara, Travis Barker, Jon Voight, Emile Hirsch, Brad Grey, Kristin Cavallari, Kim Kardashian, Kendra Wilkinson, Vanessa Minnillo, Reggie Bush, Sumner Redstone, Bridget Marquardt